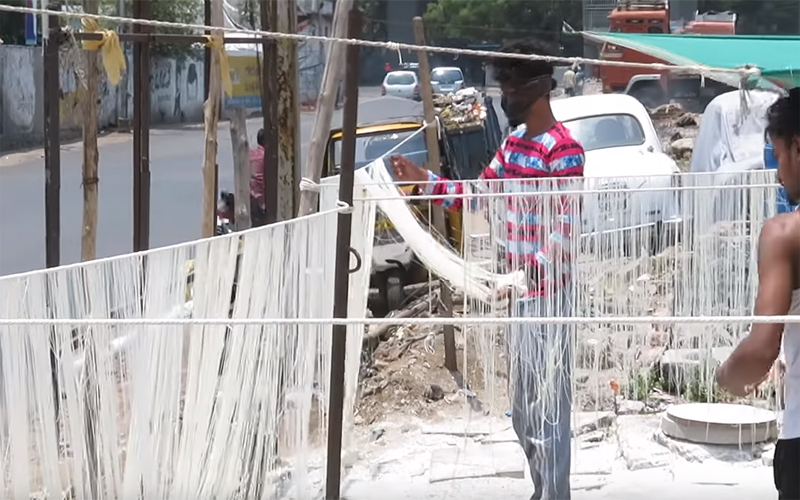 Hyderabad: Sivayan or vermicelli is an essential ingredient in preparing Sheer Khorma, the main sweet dish that is served in every Muslim home on Eid Al-Fitr which is expected to be celebrated on June 5.
Sheer Khorma is prepared in milk with a reasonable dose of sivayan or vermicelli, sugar, dry fruits and a sprinkle of zafran or saffron. Ghee or the purified butter is used to fry the wheat flour made vermicelli before it is mixed with the hot milk.
There were times when handmade sivayan were used in making the delicious dish. But with the changing times the market is flooded with machine made vermicelli. Still, there are those who prefer the handmade stuff. It is because of that demand that a few traditional sivayan makers are still left in the business in Hyderabad.
Mohammad Saleem Khan believes that his could be one of few families left in the mega city that are making sivayan the traditional way. "We know that the demand for hand-made sivayan has tremendously declined over the last couple of decades. But still we get orders. There are traders who want us to make for them the traditional sivayan," he said.
Khan has a large family. He lives in Chaderghat. All the 20 members of the family chip in their bit to make the product. "Ours is the third generation in this business," he informed.
A random survey conducted by Siasat.com discovered that besides Chaderghat there are also a few families who operate from Yakutpura and Dabeerpura.
Anwar Khan, a grandson of Saleem Khan, said, "The sivayan making process was started by my grandfather some 60 or 65 years ago."
Sivayan making starts about three months before Ramadan to meet the demand. Everyday Saleem Khan's family makes 20 kg of sivayan. The process begins by mixing water with maida (finely grinded wheat flour). The mix is allowed to soak in well for over 24 hours. The next day a little salt is added and the kneading begins. It continues for an hour or so after which flour rolls are made and then cut into small balls. The balls are beaten for a while to give the desired lines when they are stretched in a particular style. The thread like floor is then is placed under the sun. Long threads of sivayan get ready within five to 10 minutes.
The handmade sivayan are not only popular in Telangana but also in some neighbour states. "Traders from Maharashtra and Karnataka ask for sivayan some three to four months before the season begins. Though our supply is far and wide the profit margins are very low. That is one of the main reasons why people are leaving tradition sivayan making business," Anwar Khan.
By Mohammed Hussain
Email Id: mohammedhussain.reporter@gmail.com
Subscribe us on