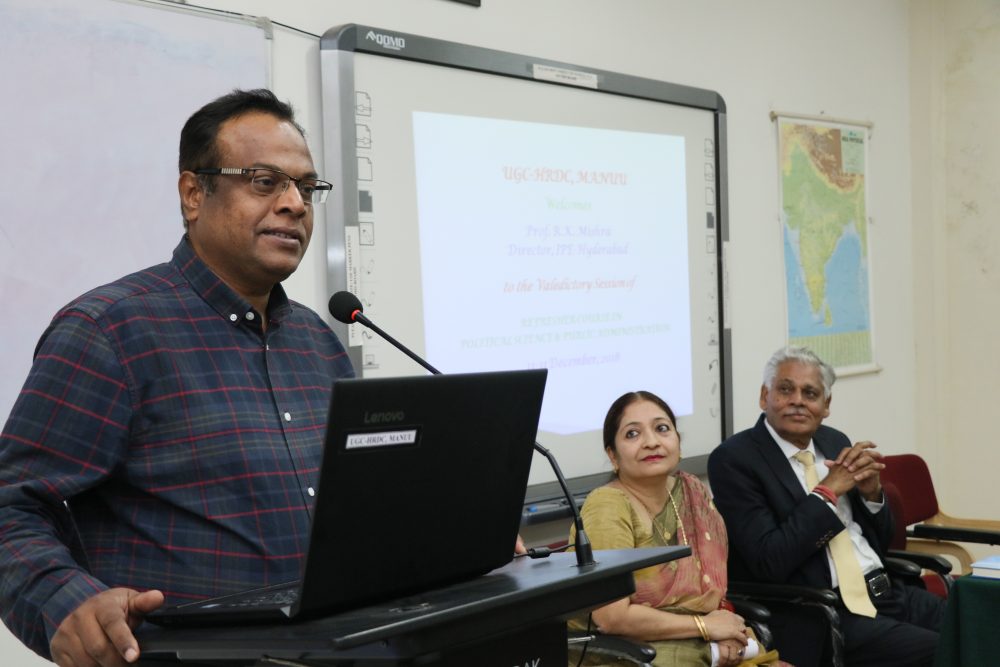 Hyderabad: Three week-long refresher course in Political Science & Public Administration organized by UGC – Human Resource Development Centre (HRDC) of Maulana Azad National Urdu University successfully concluded on 31st December 2018. A total of 58 participants of various Degree Colleges/Universities of different states participated in the course. The course was inaugurated on December 11.
Prof. R.K Mishra, Director, Institute of Public Enterprises, Hyderabad, while addressing the valedictory as the Chief Guest emphasized the role of teachers in Colleges and Universities. He encouraged the participants to focus on research-based activities on the specific subject. The teachers should study and increase their knowledge, they can reform the society, he added.
Meanwhile, the Centre also organized Winter School in Basic Sciences from December 11 to 31 2018 in which 55 participants from different disciplines like Botany, Chemistry, Physics, Mathematics' and Biochemistry etc. took part. The Chief Guest Prof K. Murlidhar, School of Life Sciences, HCU while addressing the valedictory urged the teachers to equip adequately with academic skills, research and utilize them for benefits of students and institutions.
Dr. M A Sikander, Registrar who is also the Incharge Director of HRDC, thanked participants for showing interest in the course and appreciated their contribution to the success of course. He requested them to depute colleagues for other courses of the centre.
Certificates were also distributed among participants of both the courses.
Dr. Tahseen Bilgrami, Deputy Director of UGC-HRDC welcomed the gathering and presented the reports of Refresher Course and Winter School. Dr. Ishtiyaq Ahmad, Assistant Professor, UGC-HRDC proposed the vote of thanks.
Subscribe us on