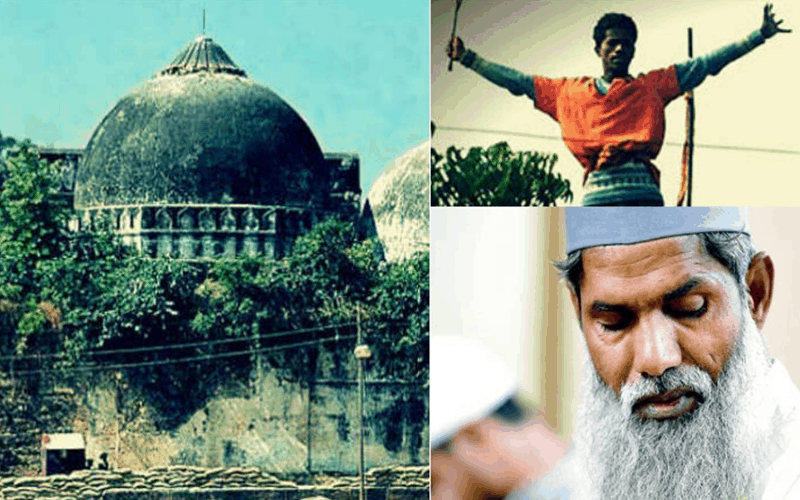 Hyderabad: Mohammed Amir (formerly Balbir Singh), who was once an active Sangh leader and the one that climbed the dome to destruct Babri Masjid, now builds and protects mosques across India. He is building a mosque in Hafez Baba Nagar, Hyderabad.
After participation in destruction of Babri Masjid and later accepting Islam he has decided to build and renovate 100 mosques. He also pledged to protect mosques. With this in mind, he has completed the construction of 91 mosques, and more than 59 are under construction. This mosque which is being constructing in Hyderabad is his 59th which has named 'Masjid-e-Rahimiya.'
Mohammed Amir said that last year, on December 6 he had laid the foundation of Masjid-e-Rahimiya near Balapur road in Hafez Baba Nagar. Since then the construction work has been going on. The local people have already begun to say prayers at a temporary shade. The mosque is being constructed with ground plus 6 floors on a 3200 sq yd land which also includes a madarsa (religious school) for those who have embraced Islam, he added.
Narrating the reason behind his drive to construct the mosques he said as a karsevak involved in the destruction of Babri Masjid, when he reached home after the demolition he was given a hero's welcome fby the public. But his family's reaction shocked him. His secular family denounced his actions as a result of which he was feeling guilty. Later, when he fell sick and began having physiological issues he decided to consult with a Maulana.
He went to the Maulana Kaleem Siddiqui in Muzaffarnagar in UP and explained to him about what he does. He also sought forgiveness for what he had done. The Maulana explained to him the Islamic values through the Quranic verses. At that time he realized what he had done was sinfully wrong. On June 1, 1993 he accepted Islam sitting before Maulana Kaleem Siddiqui. He also decided to build and protect 100 mosques. With this aim he has built 91 Mosques in this 26 years and 59 were under construction.
Mohammed Amir built the first mosque in Haryana with and named it Masjid-e-Madina in 1994. In the next three months he laid foundation of another mosque in Haryana. Almost all of the mosque's foundations were laid on December 6. He also built one of the most famous and popular mosques in Mendu near Hathra in UP, he noted.
He built mosques mostly in the North and North-eastern states. He ia also brining about awareness and teachings about the Islam and running a mardassa for the reverted Muslims. He said that wherever he is building a mosque he and his family shift to that particular area and begin offering teachings of Islam.
Subscribe us on