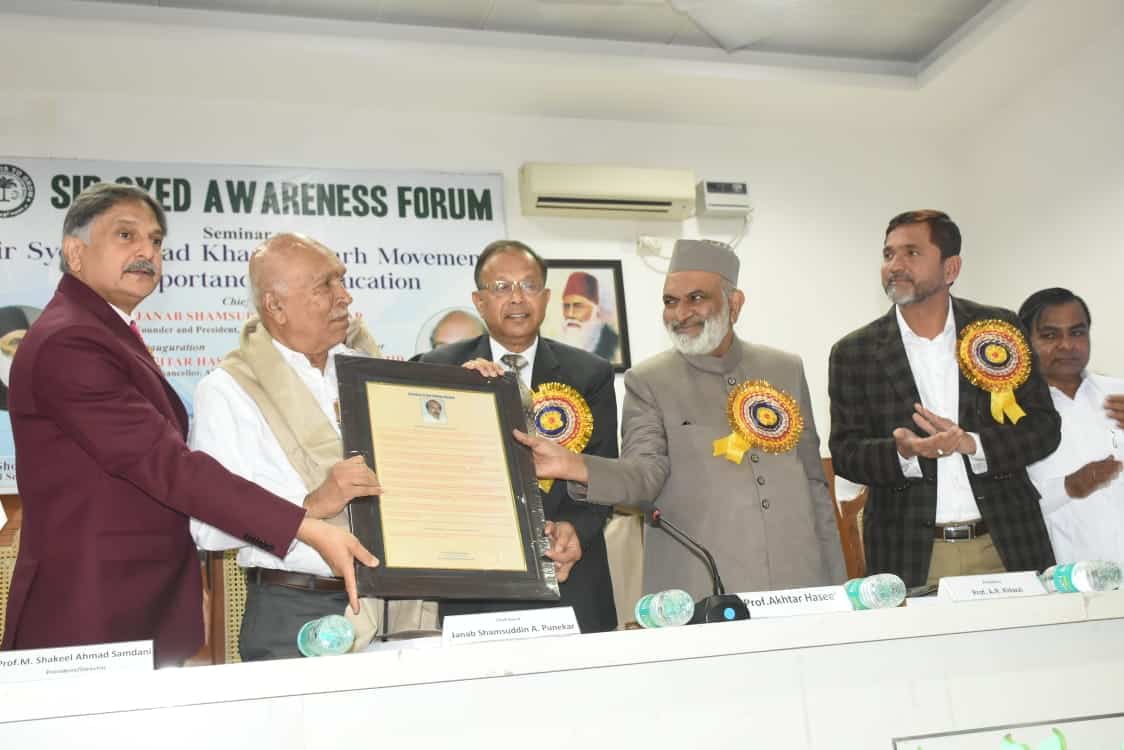 By Pervez Bari
Aligarh: On behalf of Aligarh-basedSir Syed Awareness Forum, (SAF), the "Mohsin-e-Millat Award" was conferred on Educationist Shamsuddin Abdullah Punekar for his services towards the nation and successfully establishing and running 24 educational institutions in Karnataka here on Sunday.Prof. Akhtar Haseeb, Pro-Vice-Chancellor, AMU, Prof. Shakeel Samdani, President SAF, and Prof. A. R. Kidwai, Director, UGC Academic Staff College, AMU, jointly presented the award to Punekar. The award was presented during a national seminar on the topic "Sir Syed, Aligarh Movement and Importance of Education" at Aligarh Muslim University Polytechnic auditorium, wherein Shamsuddin Punekar was the chief guest. The SAF had organized the national seminar
While addressing the seminar, Punekar said that 'those who are getting education from the great institution established by Sir Syed Ahmad Khan are having the blessings of Almighty on them. Had the Aligarh Muslim University (AMU) not existed, then the Indians would have remained educationally backward for a long period of time. I really admire Sir Syed Ahmad Khan that he started an educational movement and that movement gave me inspiration to do social and educational work.'
He further said that it is the duty of the old boys of this university to take inspiration from the life of Sir Syed and spare some time and money for social and educational work. He told the audience in detail about his life and struggle in establishing 24 educational institutions in Karnataka. He exhorted the audience to save our youth by guiding them on the right path. At last, he congratulated Prof. Shakeel Samdani for organizing such a wonderful seminar.
Sir Syed planted seed of scientific education
While inaugurating the seminar, Prof. Akhtar Haseeb, Pro-Vice Chancellor, AMU said that the seed of scientific education planted by Sir Syed has grown up into a tree in the form of Aligarh Muslim University and its three centres. Sir Syed always preached the ideals of tolerance, secularism and brotherhood. He, while congratulating Prof. Shakeel Samdani for successfully organizing the seminar, said that there is no substitute of hard work and those who keep on working hard will see its benefits sooner or later. In the end he advised the audience that whatever has been transpired in the seminar should be transformed into action.
Prof. Shakeel Samdani, Director of the seminar and Dean, Faculty of Law, AMU, while highlighting the objectives of the SAF, said that this forum was established 15 years ago with the mission to enlighten the ideals of Sir Syed to the students and the forum has been successful in doing so. The purpose of this forum is to make the students aware about the mission and vision of Sir Syed including constitutional ideals of secularism, tolerance, peace and harmony. Prof. Samdani further said that in comparison to North India, South Indian Muslims adopted the Aligarh Movement and established hundreds of high quality institutions. The same movement should be restarted in north India by Muslims, he stressed.
U.P. Ratan Awarded, Dr. Lokesh Sharma said that no one can repay the debt of Sir Syed Ahmad Khan. Sir Syed lost everything for uplifting of the community. Without caring about his opposition and criticism Sir Syed continued to work for scientific education and he successfully achieved his goal.
Prof. A. R. Kidwai, while delivering his presidential address, said that Sir Syed worked a lot for scientific education and he became a defender of it. He also discussed the tour of Sir Syed to England, where he saw the lifestyle, education system, syllabus, buildings of them and tried to replicate them in AMU.
Dr. Swati Rao while addressing the gathering said that education is incomplete without proper upbringing. She further said that Urdu language is an Indian language and it can be called as the language of communal harmony. She wondered why Urdu language is not getting justice in the country.
Prof. Mohib-ul-Haque said that Sir Syed was one who influenced the time. Sir Syed and Raja Ram Mohan Roy were the first who started socio-religious movement in India. Sir Syed launched educational movement for regeneration of Muslim community and he was the pioneer of inter-faith understanding.
Sarah Samdani, Syed Haider Pasha Quadri express views
Sarah Samdani and Syed Haider Pasha Quadri from Maharashtra also expressed their views on this occasion.
The seminar was successfully conducted by Ayesha Samdani, MBBS student, AMU. The seminar was started with the recitation of verses from the Holy Quran by Dr. Obaid Iqbal Asim, Abdullah Samdani welcomed the guests and vote of thanks was proposed by Khansa.
The notable feature of the seminar was that it was attended by 32 delegates from Karnataka, Maharashtra and Andhra Pradesh. Two delegates came from Turkey and gave an international touch to the seminar. A large number of academicians, faculty members and students of AMU were present in this seminar.The seminar was made successful with the tireless efforts of Adv. Shoeb Ali, General Secretary, SAF; Dr. Haider Ali, In-charge; Mrs. Anjum Tasneem, Mohammad Nasir, Hunain Khalid, Kashif Sultan, Chitranshu, Manasvee, Samreen, Anas, Shubham, Zakia Khan, Samra Hashim, Pawan Varshney, Yusuf Iqbal, Mohammad Sabeeh, Sachin Varshney, Rahul Singh, Shelja, Talat Anjum, Razia Chauhan, Shreya Singh, Salman, Moiz, Adnan, Chiragh and others.
Subscribe us on