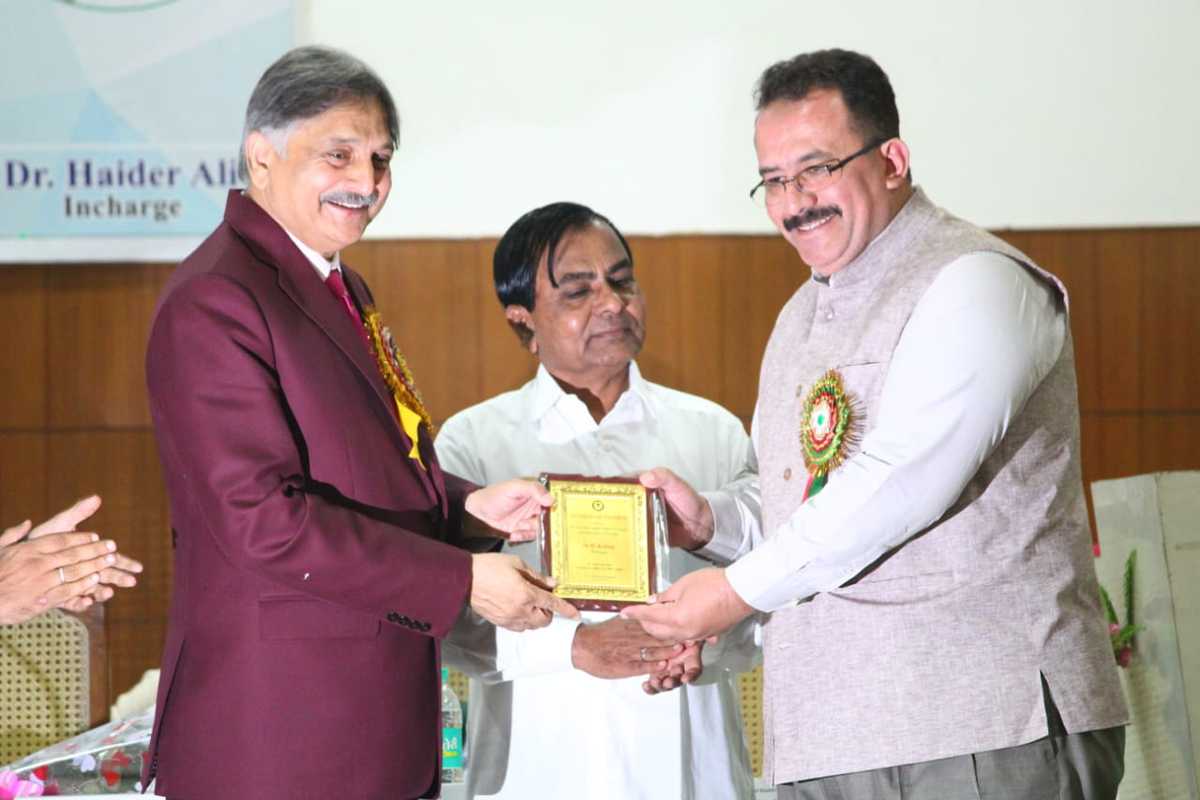 Aligarh: Sir Syed Awareness Forum (SAF) organized a national seminar on "Sir Syed, Aligarh Movement and Importance of Education" at Auditorium, University Polytechnic, Aligarh Muslim University, Aligarh.
Chief Guest of the seminar Mr. Shamsuddin Abdullah Punekar was conferred "Mohsin-e-Millat Award" for his services to the nation and successfully establishing and running 24 educational institutions in Karnataka. The award was presented by Prof. Akhtar Haseeb, Pro- Vice Chancellor, AMU and Prof. Shakeel Samdani, President, Sir Syed Awareness Forum, Aligarh.
While addressing the seminar, Mr. Punekar said that 'those who are getting education from AMU which was established by Sir Syed Ahmad Khan are the blessed people.
Had AMU not existed, then the Indians would have remained educationally backward for a long time. "I really admire Sir Syed Ahmad Khan for starting an educational movement. That movement has given me inspiration to undertake social and educational work," he said.
The duty of the old boys AMU should learn valuable lessons from the life of Sir Syed and spare time and money for social and educational work.
He shared his experience with the audience his own struggle in establishing 24 educational institutions in Karnataka.
While inaugurating the seminar, Prof. Akhtar Haseeb, Pro-Vice Chancellor, AMU, said that the seed of scientific education planted by Sir Syed has grown into a huge tree in the form of Aligarh Muslim University and its three centers. "Sir Syed always preached the ideals of tolerance, secularism and brotherhood," he added.
He also said that there is no substitute for hard work. Those who worked hard will see its benefits.
Prof. Shakeel Samdani, Director of the Seminar and Dean, Faculty of Law, AMU, while highlighting the objectives of the SAF, said that the forum was established 15 years ago with the mission to spread the ideals of Sir Syed to the students.
The purpose of the forum is to make the students aware of the mission and vision of Sir Syed, including constitutional ideals of secularism, tolerance, peace and harmony. In comparison with North, South Indian Muslims have adopted Aligarh Movement better and established numerous high qualtiy institutions. The same movement should be restarted in the North by Muslims, he added.
U.P. Ratan Awardee, Dr. Lokesh Sharma said that no one can repay the debt of Sir Syed Ahmad Khan. Sir Syed devoted his entire life for the uplift of the community.
Prof. A.R. Kidwai, Director, UGC Academic Staff Collge, AMU, while delivering the presidential remarks, said that Sir Syed became a defender of scientific education.
Dr. Swati Rao said that education is incomplete without proper upbringing. She further said that Urdu is the language of communal harmony. She wondered by Urdu language is not getting justice in the country.
Prof. Mohibul Haque said that Sir Syed influenced the society of his time through his movement. Sir Syed and Raja Ram Mohan Roy were the first two Indian personalities who started socio-religious movement in India.
Sarah Samdani and Syed Haider Pasha Quadri from Maharashtra also expressed their views on this occasion.
The seminar was successfully conducted by Ayesha Samdani, MBBS student, AMU.
The seminar was attended by 32 delegates from Karnataka, Maharashtra and Andhra Pradesh. Two delegates came from Turkey and gave an international touch to the seminar. A large number of academicians, faculty members and students of AMU attended the seminar.
Subscribe us on