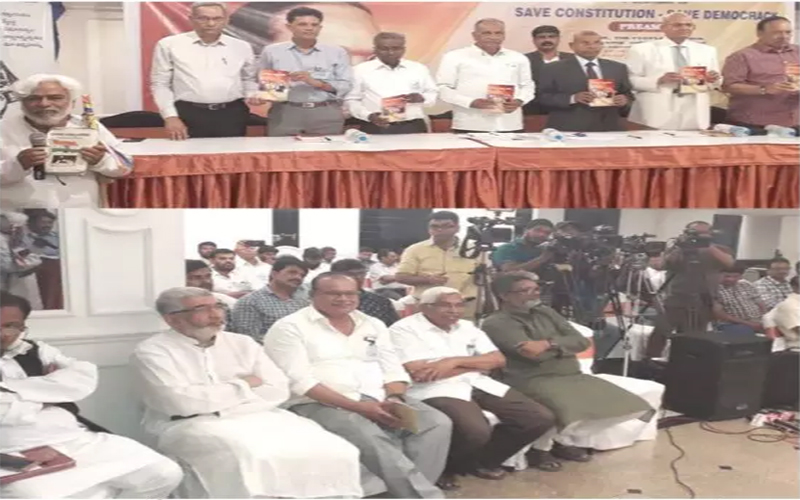 Hyderabad: Revolutionary poet, Mr. Gaddar launched the campaign 'Save Constitution' and 'Save Democracy'. A meeting was held at Hotel Central, Lakdikapul under the chairmanship of Mr. Gaddar. It was attended by Mr. Zaheeruddin Ali Khan, Managing Editor of Siasat Urdu Daily, Prof. Kodandaram, Justice Aishwarya, Justice Chandrakumar, Justice Chandraiah, noted journalist King Shak Nag, Mr. Kaki Madhav Rao, IAS (Rtd), Mr. A. Murali, IPS (Rtd), Mr. Ramchandra Murthy, Editor of Sakshi, Mr. Srinivas Reddy, Editor of Andhra Jyothi. Justice Aishwarya released a booklet on Constitution of India.
In the keynote address, Mr. Gaddar paid rich tributes to Dr. Bheem Rao Ambedkar. He told that in order to prevent the image of Constitution of India, it is essential to apprise various clauses of the Constitution to people. Mr. Gaddar further told that Indian constitution is not confined to any professor, judge or lawyer. It contains the process of getting reservations for every citizens. It is not possible to face the challenges democracy is facing without knowing the constitution. He also told that the adhoc committee will work for spreading the knowledge of Indian constitution to the citizens of all the 33 districts of Telangana.
Legal experts who attended the meeting highlighted various clauses of Indian constitution and discussed the atrocities being meted out to Dalits and Minorities. They were of the opinion that the intention of fascist forces is to tarnish the image of Constitution and to destroy democracy.
[source_without_link]Siasat News[/source_without_link]
Subscribe us on