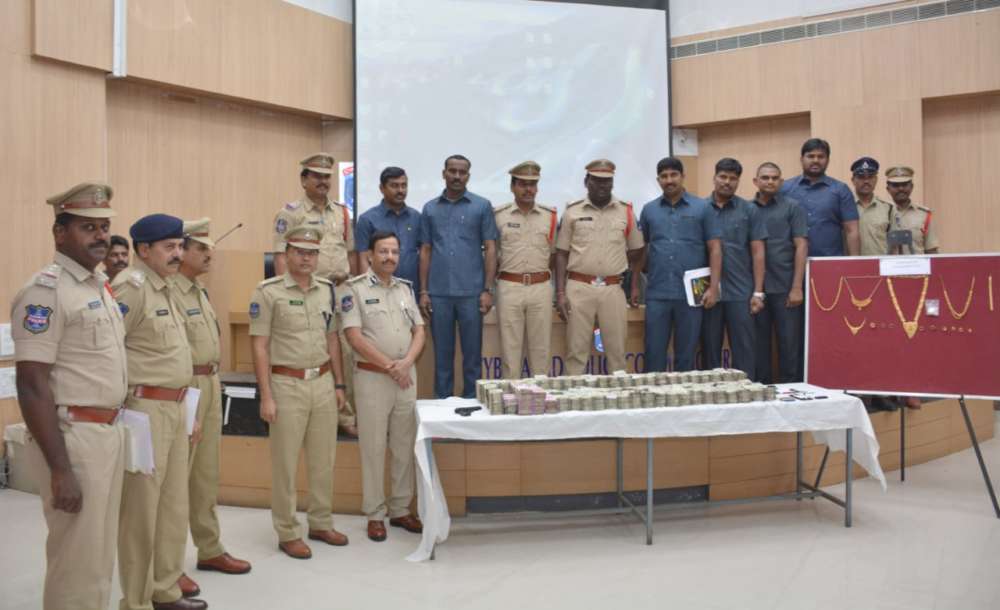 Author: Mohammed Hussain
Hyderabad: Shadnagar police on Wednesday busted an inter-state gang and arrested seven persons, including two women, who were allegedly involved in a highway robbery. The crime had taken place on June 28 at Dhashmesh Dhaba in Shadnagar.
Police have seized cash of Rs. 2.89 crore, 350-gram gold ornaments, a Maruti Brezza car, eight mobile phones and one toy pistol.
The gang is native of Maharashtra. The offenders have been identified as Sunitha Chandrakanth, 39-year-old, Sujatha 35, Akash, 23, Mayuresh, 22, Vishwajeeth Bhosle and Sunny Chavan, (all 21 years old) and Akash Deepak, 20.
V C Sajjanar, Commissioner of Police, Cyberabad, said the gang is from neighbouring state of Maharashtra.
The victim Raju Nangre used to procures gold from Kerala and sell it cities like Hyderabad and Mumbai.
According to details, Mayuresh who had earlier worked with Sujatha had begun working for Raju Nangre for transporting gold and collecting money from the customers.
The employees of Raju Nangre usually stopped at Dhashmesh Dhaba for lunch and dinner while travelling to Hyderabad.
N. Prakash Reddy, Deputy Commissioner of Police, Shamshabad, said that three months back, Mayuresh went to Bhiwandi. There he met Vishwajeet and his mother Sujatha. Mayuresh discussed with them about his job.
Sujatha told Mayuresh that if he could cooperate they would intercept Raju Nangre's car between Mumbai and Kerala or Hyderabad and Kerala and steal the booty.
Mayuresh agreed. One month ago he told them to send the gang to Dashmesh Dhaba, near Raikal Toll Plaza in Shadnagar.
In June Mayuresh shared the location of Dhashmesh Dhaba with them.
After committing the offence they went to the house 0f Vishwajeet in Karad town, opened the secret lockers of the car carrying Rs. 3.6 crore and shared the booty.
M. Dayananda Reddy, Additional DCP SOT, said that Vishwajeeth along with his gang came to Dhashmesh Dhaba on June 26 and stayed at a lodge in Shadnagar. On June 28 the gang intercepted the vehicle and took it towards Balanagar, threatened the driver and fled the scene with the car.
Police Special Team apprehended the gang at Kohir X road, near Zaheerabad, while it was planning to commit another offence.
Subscribe us on