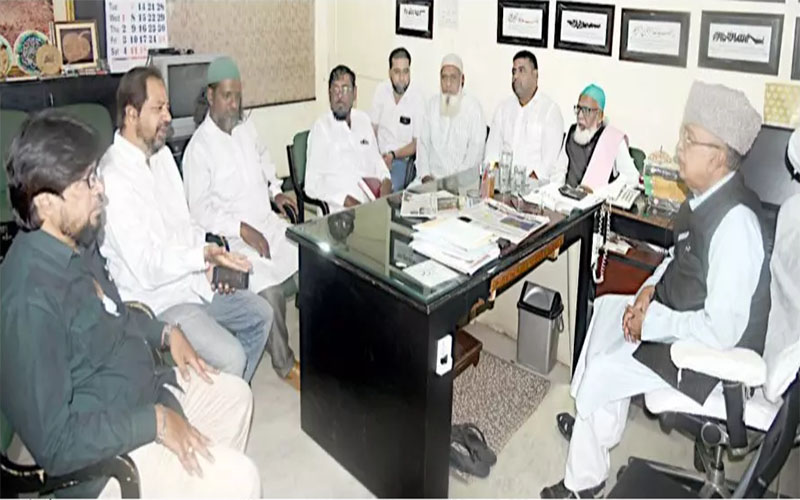 Hyderabad: By the Grace of Allah (SWT), Siasat Urdu Daily helped the victims of communal riots in Mumbai, Gujarat, Muzaffar Nagar etc. It also made arrangements for the establishment of schools in Keerana and slum areas of Bihar and Delhi.
Mr. Zahid Ali Khan, Editor of Siasat Urdu Daily always comes forward to donate generously for the victims of flood, earthquake and communal riots.
A meeting of the persons responsible for making arrangements for burial of Muslim destitute bodies was held in the chamber of Mr. Zahid Ali Khan, Editor of Siasat Urdu Daily the other day. In this meeting, the facts behind the burial arrangements taken up by Millat Fund of Siasat Urdu Daily came to limelight.
Readers will now be able to read the facts of burials of destitute Muslim bodies which was started by Millat Fund of Siasat Urdu Daily.
Earlier, Muslim dead bodies from Osmania General Hospital and Gandhi Hospital used to be taken either to Shamshanghat or a far off place for disposing them.
A Muslim police constable approached Mr. Zahid Ali Khan and told that Muslim dead bodies are either set on fire or buried with other dead bodies. On revelation of this reality, Mr. Zahid Ali Khan got wonderstruck. He contacted the then Commissioner of Police, Mr. M.V. Krishna Rao and apprised him of the situation offering to take care of the burials of destitute Muslim dead bodies. In this manner, this noble cause was started in 2003. So far, arrangement were made for the burial of 4419 destitute Muslim bodies.
For taking up this project, Maulana Hameeduddin Aaquil Hussami played an important role. When he came to know of this, he got very much irritated.
Later, Maulana Qubool Basha Shuttari and others convened a meeting at Urdu Ghar, Moghalpura to consider this issue seriously.
The then Commissioner of Police, Mr. M.V. Krishna Rao issued instructions to all the police stations to handover destitute Muslim dead bodies to Siasat Urdu Daily for making their burial arrangements. This is how, this program got started.
At Janullah Shah Muslim Graveyard Afzalgunj, 750, Kukatpally phase IV, 3300, Gauliguda Graveyard, 47, Karwan graveyard nearly 20, Khidki Boodh Ali Shah 4, Misrigunj graveyard 15 dead bodies were buried.
News Editor of Siasat Urdu Daily, Mr. Amer Ali Khan informed that it was a major task of making arrangements for the burial of Muslim dead bodies with full respect and dignity. It is the Grace of Allah (SWT) that He has taken this service from Siasat Urdu Daily. He informed that for the initial five years, the burial expenses were borne by Mr. Zahid Ali Khan. It is a revelation which Mr. Zahid Ali Khan had been avoiding earlier. Whenever, the question of expenses was asked, Mr. Zahid Ali Khan used to say that this has been done by the Grace of Allah (SWT). He also used to say that Allah (SWT) will compensate to the readers of Siasat Urdu Daily who contributed generously for this good cause. He also informed that nearly 100-125 dead bodies were of the Muslim women.
It may be mentioned that it is a unique work which has been taken up by Siasat Urdu Daily which has no parallel in the entire country. This program is being taken up in Kurnool, Adhoni and other places of AP.
In this context, the cooperation received from Mufti Khaleel Ahmed, Maulana Khalid Saif Ullah Rehmani, Maulana Qubool Basha Shuttari, Mufti Shakeel Ahmed Qasimi, Mufti Gyas Rehmani, Maulana Nayeemuddin Hussani, Maulana Jaffar Pasha, Mufti Sadiq Mohiuddin, Hafiz Khaja Nazeeruddin, Maulana Arshad Qasimi, Mufti Abdul Ghani Mazahiri, Maulana Gulam Nabi Shah, Maulana Inamul Haq, Maulana Saadatullah, Maulana Irshad Ahmed is very laudable.
According to Zahid Husain, the Muslim dead bodies are acquired from Tank Bund, Nampally Railway Station, Secunderabad Railway Station, Alwal Church, Home for the Aged, Budwel Church and the church located near Ramoji Film City.
It is worth mentioning that retired Asst. Sub-Inspector of Police, Mr. Zahid Husain has been associated with this program right from the beginning. He informed that Mr. Mohammed Abdul Jaleel of Tharthare Shah Graveyard, Bansilalpet, Secunderabad, Mr. Samiullah Khan of Masjid Sunnipura, Shaik Abdul Aziz and his son of Kukatpally Graveyard, Mohammed Khaja Nayeemuddin, Mohammed Khaja Kaleemuddin of Janullah Shah Graveyard and Osman bin Mohammed Alhajri of Karwan played a key role in this program.
It may be mentioned that it costs Rs. 3000 for disposing of a dead body. A philanthropist who prefers to be unidentified, arranges the shroud (the white cloth used as "Kafan") for dead bodies.
[source_without_link]Siasat News[/source_without_link]
Subscribe us on