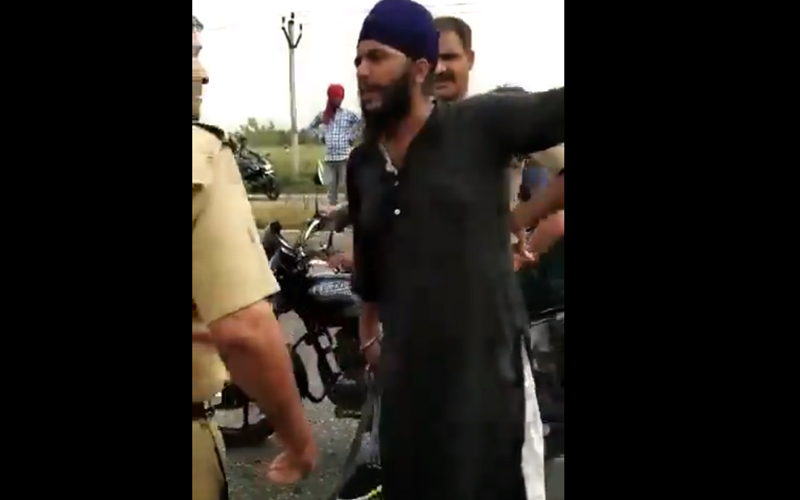 SHAMLI: A Sikh truck driver confronted the Uttar Pradesh cops with a sword after they tugged his beard during an argument on a highway in the state's Shamli district on Tuesday.
The Sikh drivers, which was headed towards Meerut, was stopped by the cops for reportedly driving on the wrong side of the road. The initial verbal argument between the truck driver and cops turned into a brawl after one of the cops tugged the driver's beard.
The Sikh driver accusing the cop of mocking their faith and reacted by retrieving his sword kept in the truck and threatened the cops with it.
The scuffle between two Sikh truck drivers and a cop was caught on the camera and the video went viral on social media. The matter was sorted out later between the two parties at Kotwali Police station.
A Sikh truck driver confronted @Uppolice cops with his sword after officials 'pulled' his beard after the driver allegedly did not give way to the police van behind. The incident that occurred on Shamli- Muzaffarnagar border in Shamli. pic.twitter.com/RqUMOyfvul

— Piyush Rai (@Benarasiyaa) April 9, 2019
Punjab Chief Minister Captain Amarinder Singh has reacted angrily and wrote, "Deplorable incident. Shameful that a man in uniform should show such scant regard for the religious sentiments of a common man. Request @myogiadityanath to take the cop concerned to task. A strong message needs to go out that @BJP4India doesn't condone such behaviour."
Moments later, the UP police apologised from its official social media handle as it wrote, "We regret the whole incident, sir. The concerned policeman is being suspended and the whole incident will be enquired by an SP rank officer. UP Police is unequivocally committed to respect the religious sentiments of all citizens and such behaviour shall never be pardoned."
We regret the whole incident sir.
The concerned policeman is being suspended and the whole incident will be enquired by an SP rank officer.
UPPolice is unequivocally committed to respect the religious sentiments of all citizens and such behaviour shall never be pardoned.

— UP POLICE (@Uppolice) April 10, 2019
With agency inputs
Subscribe us on