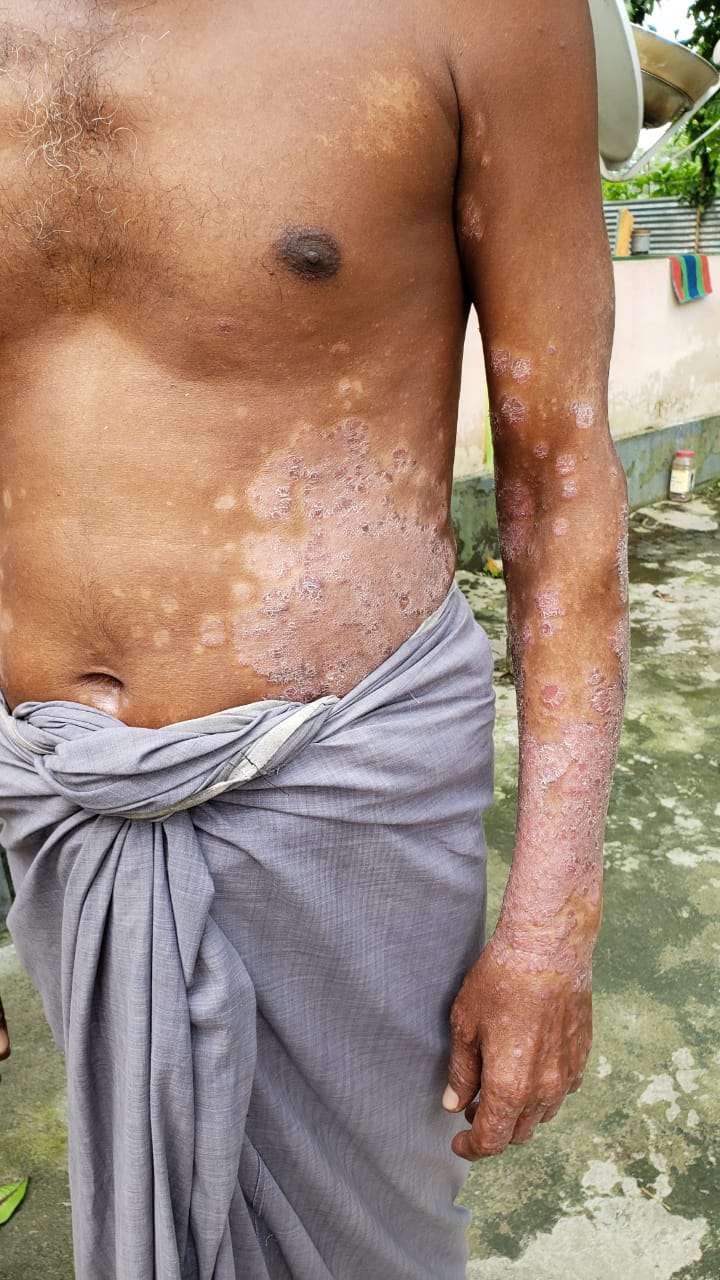 Meghalaya: Skin disease epidemic has been affecting thousands of people of Mahendraganj in West Garo Hills district of Meghalaya.
Various government schemes like Swachh Bharat Abhiyan and National Rural Health Mission (NRHM) have failed in Meghalaya.
According to various reports, about 6000 people including children in Mahendraganj area under Zikzak block are infected by a contagious skin disease, of which majority of them are minorities.
The disease resembles eczema and pityriasis Rubra. It is a disease wherein the infected area resembles rashes, dry patches, small boils in the underarm, belly area, skin of inner joints, ears, shoulders and breast areas of lactating mothers.
Since the area is on the Indo-Bangladesh border, the government health schemes are not reaching the people of the region. There are fears that if necessary interventions are not taken immediately by the health department the epidemic may spread to other areas.
Many of these people are poor, uneducated and are living in unhygienic conditions.
Following reports of a contagious skin disease afflicting residents in Zikzak block of Mahendraganj, health authorities have dispatched a team to ascertain the facts.
As per the report compiled by a team of health officers from June to August 24 this year 879 cases of epidemic cases have been reported. The month-wise break up in June – 313, July – 359 and till August 24, there were 207 cases. The intervention by the health authorities began since then.
In August when there were reports of thousands of people from Mahendraganj being affected by skin disease, the deputy commissioner of South West Garo Hills said that he will take legal action against people who are spreading rumours about it.
Speaking to siasat.com over phone Shabnam Mohan Raj, CEO of Voluntary Association for Social Upliftment (VASU), said "on August 16, 2019, on a visit to Mahendraganj, our team discovered that a large number of people were suffering from serious skin infection in the villages around Mahendraganj".
The organization has brought 40 patients, 27 from Mahendraganj and 13 from Ampati, to Guwahati for treatment at Medical College Hospital (GMCH).
"Our intention was to organize health camps at Mahendraganj with a dermatologist and treat the people. But after getting the warning from the Deputy Commissioner we decided not to organize health camps," Raj stated.
"Many of the patients have told us that they have been having suffering from this disease for several years and the local medicines given in the local community health center are not effective at all, so they have stopped going to the local CHC. Moreover, there is no skin specialist in the local CHC," Raj said.
According to Shabnam Raj, The skin disease that was there in Mahendraganj, South West Garo Hills district has also spread to another part of the district, Ampati.
Dr. Mukul Sangma, Ex-CM of Meghalaya, said that there should be an analysis to study into the causes of the outbreak of skin diseases, as they may be caused because of arsenic poison present in water which is common in the border areas with Bangladesh.
VASU has initiated the treatment procedures and collected water samples from six villages (Beparipara, Mandalpara, Fakirpara, Paulpara, Daspara and Bagicha) of Meghalaya and sent it for testing. Results of these samples are awaited.
VOLUNTARY ASSOCIATION FOR SOCIAL UPLIFTMENT
Bank SBI, DISPUR
AC NO 33548903798
IFSC SBIN0003030
NGO address
B-602 , SUBHAM ENCLAVE, LAKHIMI NAGAR PATH, HATIGAON , GUWAHAT 781038.
Roshan Bint Raheem
Siasat.com
Subscribe us on