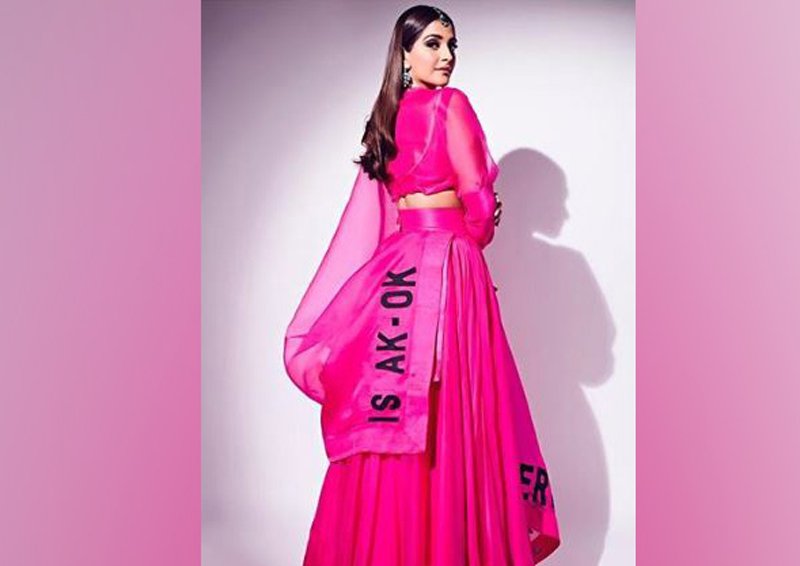 New Delhi: Bollywood's fashion diva Sonam Kapoor Ahuja sparked some controversy today for her popular, out of the box Anamika Khanna outfit.
The head-to-toe pink outfit had "Everything is AK – ok" printed on it in a bold black font. She wore the outfit for Isha Ambani and Anand Piramal's wedding.
A popular Instagram page, known for calling out designer's copied works, claimed that the designer was "blatantly copying" creations, as the outfit looked similar to Anna Wintour's June 2018 Jordans creation.
They brought to notice that Khanna's creation is too close to the Concept Jordans Vogue magazine's Anna Wintour launched in June 2018 with AW-OK printed on it. Wintour's creation has an AWOK synonym on it which stands for Anna Wintour Okay.
"We know this is going to cause major heartburn, but we simply cannot ignore the fact that @anamikakhanna.in's AK-OK is TOO CLOSE in concept to the Jordans @voguemagazine launched in June 2018, with AW-OK. What would Anna say? ?? Thoughts? #dietsabya #guts," read their caption.
However, Sonam stood up for her friend and shared her version of the story as well.
She wrote, "My dear friend @anamikakhanna.in had gone through a terrible illness in the last year.
Her beautiful twin sons @viraj_khanna and @thevisheshkhanna banded together and surrounded her gave her comfort and inspiration. The common slang that is used amongst people is A-Ok in America.
Viraj and Vishesh who just returned from America after four years in the prestigious university of Southern California, used the same term playfully with their mom when she was down, saying "mom everything is going to be AK-OK" dear Anamiks I'm so glad everything is eventually AK-OK im so so fortunate to be your muse and @rheakapoor and I get to collaborate with you. I hope I never take you for granted. Love you so much! I shed a tear when I wore this outfit because I know it was inspired by your boys and they gave you strength during your lowest."
[source_without_link]ANI[/source_without_link]
Subscribe us on