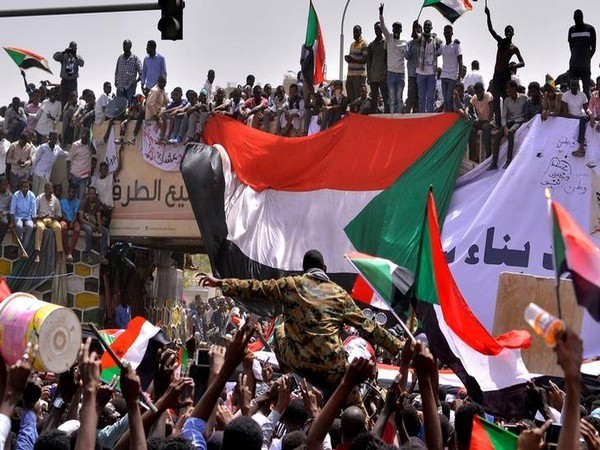 Khartoum [Sudan]: At least five persons including a soldier were killed in violence that erupted in Sudan's capital Khartoum on Monday after Transitional Military Council (TMC) and opposition reached a deal to run the country.
Three soldiers and several protestors also suffered injuries when "unidentified elements" fired shots at the sit-in outside the army headquarters, the ruling military council told Al Jazeera.
A doctor committee also confirmed that four demonstrators were killed, but were unable to clarify whether they were killed during sit-in firing.
However, the TMC has said that the military would never fire on peaceful protestors.
"There are people who are infiltrating these groups; they are armed and they targeted some of our military personnel," Huthaifah Abdul Malik, head of military intelligence, said.
"We are aware of these people, their elements and plans of provocation. We know the means that they use. They have targeted the military with armed ammunition, but these outlaws were using barricaded areas to target some of our soldiers," he added.
Protestors outside the army headquarters have said that no one was armed.
Meanwhile, talks between the military and an opposition alliance over handing to civilian rule resumed on Monday. Both sides have produced agreement on the duties and authorities of sovereign, executive and legislative bodies.
"We discussed the structure of the transitional authority and agreed on it completely, and we also agreed on the system of governance in the transitional period," said Lieutenant General Shams al-Din Kabashi, spokesman of the transitional military council.
"We will continue tomorrow with talks on the ratio of participation on the sovereign level … and the length of the transitional period," he said. "God willing, we will agree on these two points."
The development comes a day after ousted dictator Omar al Bashir was charged for inciting and participating in the killing of demonstrators.
At least 90 people were killed in protest-related violence that started last December after the government decided to raise the price of bread three fold. The official death toll is 65.
[source_without_link]ANI[/source_without_link]
Subscribe us on