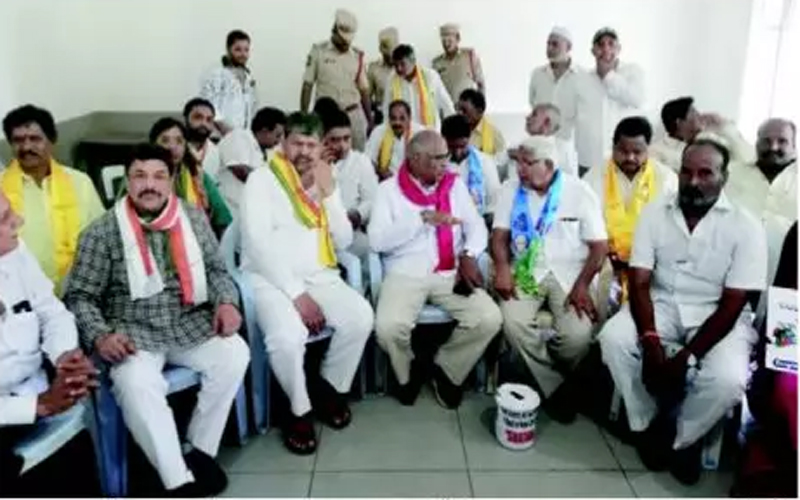 Hyderabad: Opposition parties had organized a program to collect donations to be given to the parents of the students who committed suicide on failing the intermediate examination.
Leaders of Congress, TDP, CPI, CPM and TJS had assembled at Charminar to collect donations from public.
Police officials told that permission has not been given for such an activity. Initially, Anjan Kumar Yadav, City President of Congress Committee was arrested and shifted to Kanchan Bagh Police Station. Congress workers protested against Mr. Yadav's arrest. Later, CPI Secretary, Mr. Chada Venkat Reddy, President of TJS, Prof. Kodandaram, President of Telangana-TDP, Mr. L. Ramana, TPCC General Secretary, Vinod Reddy and other leaders were arrested by the police and they were shifted to Falaknuma Police Station.
The leaders heavily criticized the attitude of the Govt. for not providing any financial help to the parents of 27 students who had committed suicide after declaring them failed in intermediate examination.
The opposition leaders told that observing the cold attitude of the Govt., they had decided to collect donation to help the families of the deceased students.
Prof. Kodandaram alleged that Govt. has not taken any action against those who are responsible for bungling with the results of intermediate examination.
Mr. Chada Venkat Reddy pointed out that Govt. overlooked the report of the three member inquiry committee. Mr. Anjan Kumar Yadav blamed that Govt. is not ready to offer any financial assistance to the bereaved families and hence they had decided to collect donations to help them. He reiterated that Congress party will continue its struggle until justice is done.
[source_without_link]Siasat News[/source_without_link]
Subscribe us on