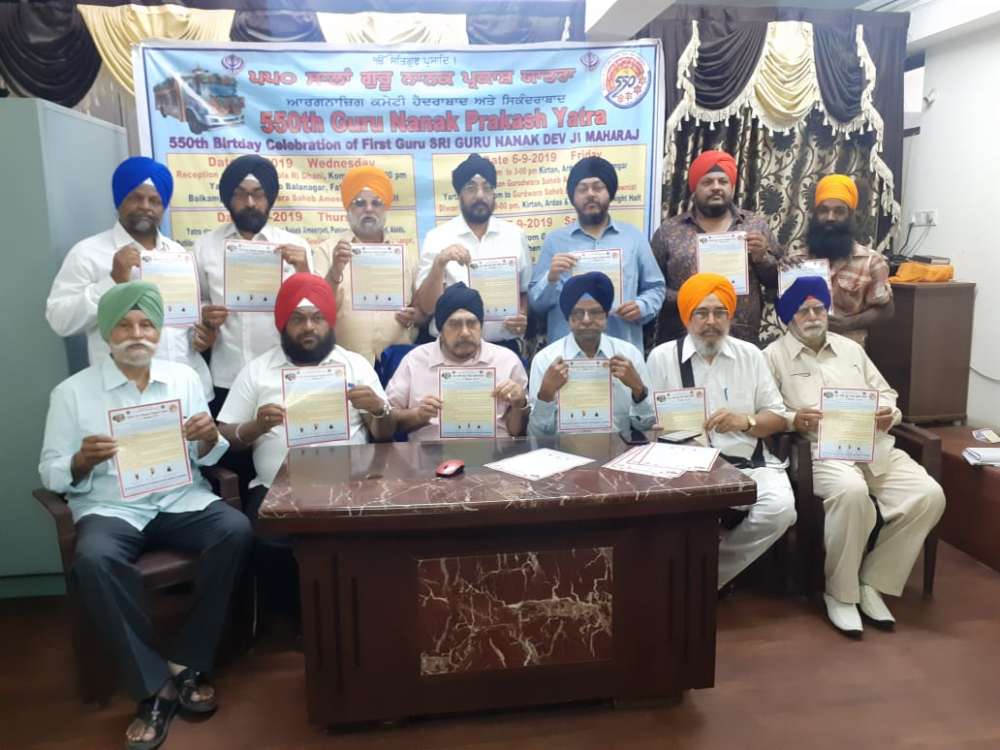 Hyderabad: As part of the 550th Guru Nanak Prakash Yatra the Sikhs of Telangana have made grand arrangements to receive the Yatra in Hyderabad and it will traverse various parts of Gurdwaras in the city from September 4 to 7.

TRS Working President, K T Rama Rao and state ministers will flag off the Yatra cum Nagar Kirtan on September 5 at around 8 am from Gurudwara Saheb Ameerpet
 Sri Guru Nanak Parkash Yatra started on June 2 this year from Sri Gurudwara Nanak Jhira Bidar in Karnataka that travelled various parts of the country covering major cities, towns and state capitals and will now reach Hyderabad on September 4. 

Addressing a press conference here today, the 550 Saal Guru Nanak Prakash Yatra Organising Committee, Hyderabad and Secunderabad, Chairman, S Gurucharan Singh Bagga and heads of Sikh Gurudwaras,  S Inder Singh of Central Gurudwara Saheb Gowliguda, S Bhagender Singh (Ameerpet), S Harminder Singh (Charmahal), S Rashpal Singh (Autonagar), S Harbans Singh (Sikh Chawni, Barambala), TSS Secretary, S Pritam Singh and others said that the Prakash Yatra will be received at Dhola Ri Dhani in Kompally on September 4 at 3 pm and will pass through Gurudwara Saheb Balanagar, Fathenagar and reach Balkampet, from Balkampet a grand Nagar Keertan (procession) will be taken out at 6.30 pm to Gurudwara Saheb Ameerpet.

On September 5, at 8 am the Nagar Keertan will start from Gurudwara Saheb Ameerpet and will pass through Punjagutta, Khairatabad, Lakdi ka pul, Abids, Koti and Putlibowli at 12.15 pm from there Nagar keertan will proceed to Central Gurudwara Saheb Gowliguda which will be galgged off by Goshmahal MLA, T Raja Singh and later move to Gurudwara Sri Guru Singh Sabha, Afzalgunj at 4.30 pm and from their pass through Nayapul, Madina, Charmahal Gurudwara, Puranapul, Bahadarpura to Puratan Gurudwara Saheb Asha Singh Bagh, Sikh Chavani for night halt.

On September 6, Vishaal Diwan (Mass congregation) will be held at Puratan Gurudwara Saheb Asha Singh Bagh, Sikh Chavani from 11 am to  3 pm in which noted Ragi Jathas will render Shabad Keertans. Yatra will start at 3 pm and proceed to Gurudwara Saheb Baram Bala Sikh Chavani where the congregation will be held from 7 pm to 9 pm. Hyderabad MP, Asaduddin Owaisi would participate in the programme.

On September 7, Yatra will start from Gurudwara Saheb Baram Bala Sikh Chavani at 7.30 am from proceeding to BHEL, Patencheru, Sangareddy and yatra will culminate at Gurudwara Nanak Jhira Bidar in Karnataka at 32 pm on Saturday.

During the four days yatra, various programme have been lined up, organising Nagar keertans, Vishal Deewanss, Gatka skills, religious processions and other specIal bands
Siasat News
Subscribe us on