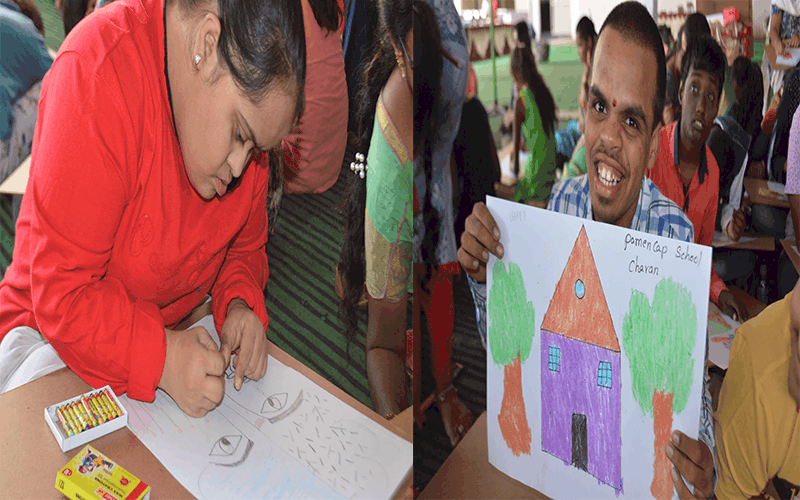 Hyderabad: The Round Table India, an Indian arm of international organization spread all over the world organized 'Taare Zameen Par', a unique painting competition for differently-abled and physically challenged children at Begumpet Palace Function Hall in Secunderabad on Wednesday.  It was organized on the eve of the Children's Day tomorrow. The event is an annual affair being conducted for the past 13 years.
The children reveled in colours and were royally treated with their choicest dishes like Noodles, Manchuria, Biryani, etc. and will be given away gift Hampers besides prizes.
The Painting competition saw a participation of 800 from different schools such as Helen Keller School for Deaf n Dumb; Another Helen Keller School from Ramakrishnapuram, Oral School for Deaf n Dumb, National Institute of Mental Health , NIEPID (NIMH), Green school , Sri Vidhyas Centre For The Special Children.
The painting competition saw the differently abled children portray colorful interpretations of the world they perceive. A differently abled student Archana Jain with 'down syndrome' beautifully depicted a portrait of a half human face and half tree expressing the communion between humans and nature. Students Deepika and Bhagya from the Oral school for the deaf presented their paintings which voiced their universal message for spreading smiles and peace.
The differently abled children often express their unspoken feelings through bright colors and splendid drawings reckoned Vandana Goud, principal of Pamencap, a school for the mentally retarded. She added that differently abled children are on par with technology utilization and show a great prowess with software's such as Microsoft Word and Excel.

Umesh Padia of The Round Table India, the organizers of the competition said Taare Zamen Par is a National Initiative of Round Table India where Painting and sketch competition are organized for the differently-abled Children to help children unravel their hidden Skills. This competition was organized across the country. It is organized for the past thirteen years continuously.
For the world, these kids are differently gifted. We feel they are definitely gifted. These kids dwell in a beautiful world of their own. Devoid of number crunching pressures, no deadlines… Just the pleasure of enjoying the moment. No ghosts of the past as memories the organizers stated. Round Tablers and their spouses around 50 graced the function in large numbers.
Subscribe us on