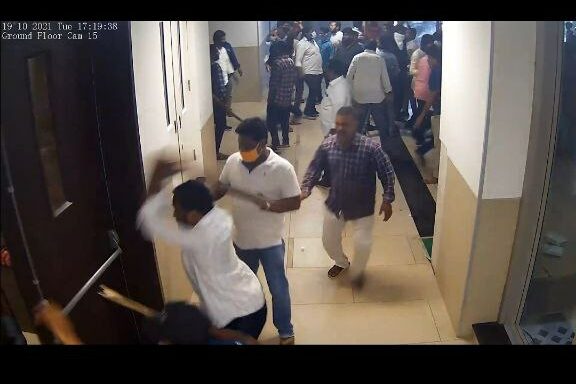 Hyderabad: The Telugu Desam Party's (TDP) headquarters was vandalised at Mangalagiri in Andhra Pradesh on Tuesday. Videos of the purported attacks, allegedly by members of the ruling YSR Congress Party (YSRCP) surfaced on social media today after the incident. TDP supremo and former AP chief minister N. Chandrababu Naidu slammed the YSRCP over the incident, calling it "state terrorism".
After the incident took place, AP director general of police Gautam Sawang said that strict action will be taken against those who give provocative speeches. "Nobody should take law into their hands, action will be taken on those who do so. The police requests the citizens to not get provoked and stay calm. Strict action against those who resort to attacks," said a statement from his office. It added that additional forces have been deployed across the state as well.
On the same day, the residence of TDP spokesperson Pattabhi Ram Kommireddi was also allegedly ransacked by YSRCP 'karyakarthas' or workers. However, there is no confirmation regarding this. It is however worth noting that the attack came mere hours after TDP national spokesman K Pattabhi Ram condemned the AP police for serving a notice to former Dalit minister Nakka Anand Babu for "supporting the cause of AP youth."
It is believed that the attack on the TDP office took as opposition leaders have been hurling allegations of drug smuggling and peddling against the AP government.
Attacking the YSRCP, Chandrababu Naidu said that the attack on his party office at Mangalagiri was a "ghastly attempt to stifle the voice of the main opposition" in Andhra Pradesh (AP). "The DGP Office is located just 100 yards from the TDP central office, which was attacked and ransacked by the YSRCP goons. Three TDP activists suffered severe bleeding injuries and were admitted to intensive care," Naidu added.
The TDP chief also alleged that the police did not try to prevent the attacks. "I personally called DGP at 5.03 pm but he did not pick up the phone. Our party office staff called the local police station but in vain. The attack finally took place at 5.16 p.m. This was totally a result of the collusion of the Government and the AP police," he claimed.
Chandrababu Naidu alleged that Chief Minister Y.S. Jaganmohan Reddy and DGP Gautam Sawang "jointly masterminded" the attacks, which he asserted were carried out to "terrorise the TDP leaders and cadres". Naidu also called for an 'AP bandh' on Wednesday in protest against the attacks.
Subscribe us on