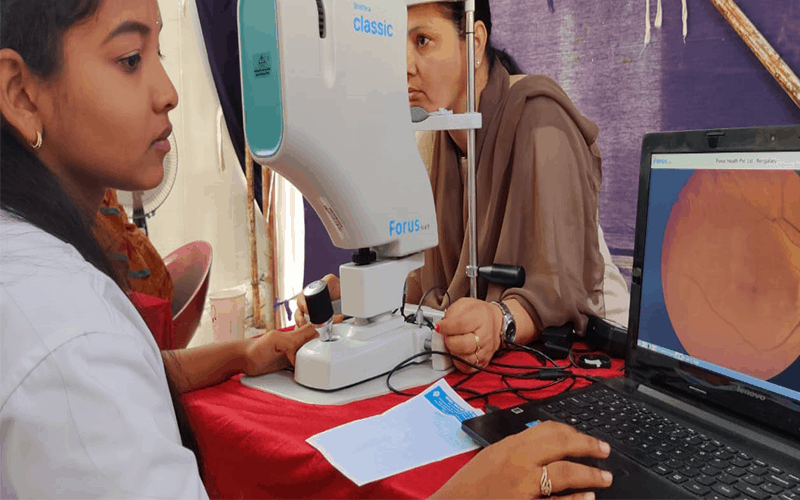 The data from Kantivelugu reveals that around 8 to 10% of the population in Telangana are suffering from Diabetic Retinopathy and majority belong to lower socio economic strata
Remote review of patients made possible by using Artificial Intelligence (AI), developed by Microsoft and Cloud enabled Software
Hyderabad: Pushpagiri Vitreo Retina Institute (PVRI), a not-for-profit super specialty eye hospital which aims to deliver quality eye care to the society to comission Diabetic Retinopathy Screening Cameras in Primary Health Centers to reduce the avoidable blindness due to Diabetes in Telangana. These will be installed in in collaboration with Ministry of Health and Family welfare, Govt. Telangana on 14th November commemorating the "World Diabetes Day" informed R. GovindHari, Chairman – Admin of PVRI in a press note issued here in the city today.
The objective of the project is to reduce the burden of avoidable blindness due to Diabetes in Telangana.
All the known Diabetics visiting the PHCs / Basti Dawakhana shall be screened for Diabetic retinopathy using the camera which is enabled by Artificial Intelligence (AI), developed by Microsoft. The photograph shall be viewed by the Retinal expert (Ophthalmologist) at the base hospital and necessary advise / recommendations shall be made via the Cloud enabled Software. All the identified patients with DR shall be referred to the nearest tertiary eye care center for further needful cource of action. Currently Fundus cameras are installed in 5 Basthi Dawakahanas in Hyderabad.
| | | |
| --- | --- | --- |
| S.No | Location | Under PHC |
| 1. | Chinthabavi | Mettuguda |
| 2. | NarasimhaBasthi | Tilaknagar |
| 3. | Ganganagar | Harrajpenta |
| 4. | Muthyalambagh | Gaganmahal |
| 5. | Allauddinkoti | Ameerpet |
The each Fundus Camera costs Rs 5 lakh each. It will be installing five on 14th November and another five by the end of the month The DR Screening services in the will available to the general public at these centers from 14th November 2019. The another 5 will be installed in Rangareddy District shall be made available to the general public by the end of this month. Very soon these facilities shall be extended to other Primary Health Centers across Telangana.
Diabetes is a growing challenge in India with estimated 8.7% diabetic population in the age group of 20 – 70 years. This raising prevalence of diabetes is due to various factors such as, Rapid urbanization, sedentary life style, unhealthy diet and increased life expectancy.Diabetic Retinopathy is a micro vascular complication of uncontrolled diabetes which affects the eye and lead to blindness. Diabetic Retinopathy affects nearly 18% of the diabetic population in India and right now India is battling with this emerging epidemic condition.
Sadly 1 in 2 people are unaware of this condition because the initial stages of Diabetic Retinopathy often have known symptoms. Around 60 – 70% of the condition can be easily prevented with timely screening and early intervention. Lack of awareness and lack of infrastructure and trained personal at the health centers in India are accounting to the increase in number of people losing sight Diabetic Retinopathy.
The data from recently concluded Kantivelugu program, a massive Universal Eye Screening Program initiated by of Government of Telangana revealed that around 8 – 10% of the population in Telangana are suffering from Diabetic Retinopathy and predominantly majority of the people DR belong to lower socio economic strata. Therefore in light of this fact PVRI in collaboration with the Govt. of Telangana has started this program.
Subscribe us on