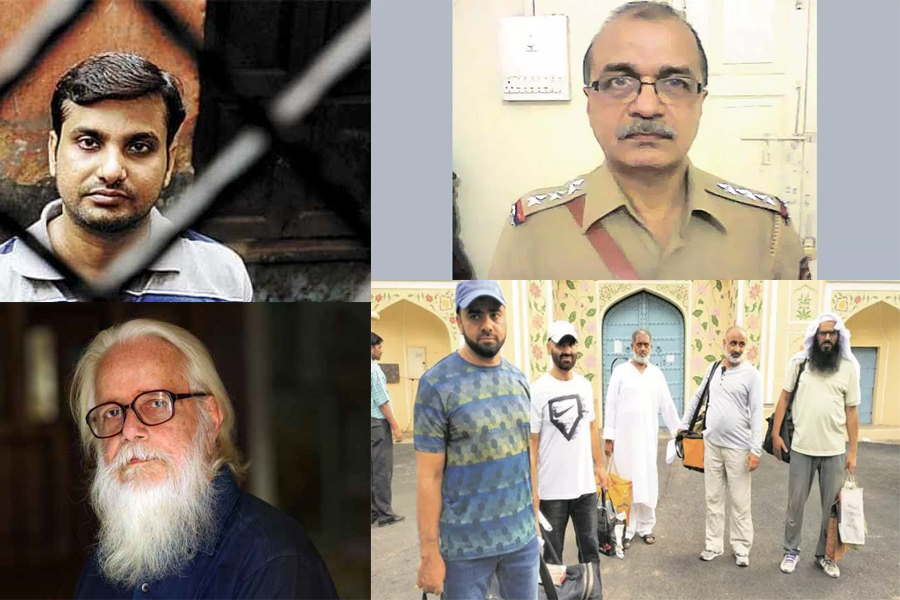 NEW DELHI: From a falsely arrest of 'honest' Mumbai cop and four colleagues to men acquitted after 23 years, these cases that have surfaced in the past couple of days can undoubtedly be called miscarriage of justice.
Terror Error
Cleared of charges after 23 yrs
The first incident involved six Muslim men who were acquitted after they spent twenty-three years in prison.
A Rajasthan High court Monday acquitted six people accused of terrorism in the 1996 Dausa bus blast case.
The court acquitted the six Muslim men identified as Latif Ahmed Baja (42), Ali Bhatt (48), Mirza Nisar (39), Abdul Goni (57) and Rayees Beg (56) after the prosecution failed to prove any links with the conspiracy to carry out the blast.
The case dates back to May 22, 1996, when a blast ripped through a state-run bus in which 14 passengers lost their lives and 39 others injured.
'Justice Delayed Is Justice Denied.'
The injustice done to them stole the best years of their youths. They 'lost their parents, career, hopes, and everything…'
Like any other youngster, these men too had a conventional dream of the future.
Meow-Meow case
In the Second incident, the Mumbai Crime Branch on July 25, 2019, has dropped all charges against five policemen in the 2015 multi-crore rupee Mephedrone or 'meow- meow' drug bust.
On May 29, 2015, the Crime branch arrested Suhas Gokhale and four others in connection with the drug seizure.
Gokhale, the senior inspector of Anti Narcotic Cell of Azad Maidan unit was arrested a day before he was scheduled to retire with a promotion after three decades of service.
For four years and two months, Gokhale and others constantly fought a battle to proclaim their innocence and finally all charges were dropped as the Crime Branch of Mumbai police found nothing to support the policemen's role in the crime.
"We fought for 4 years but, honestly, this "victory" means nothing. It destroyed my father and our family.
My dad will never get back his retirement parade. He will never get the joy of seeing his 30-year career culminating with full honors. He lost his promotion, his medals, and his honor was tarnished," Gokhale's son Saket Gokhale wrote in a Facebook post.
Wrongly framed as terrorist
Mohammad Aamir Khan was just like any other 18-year-old youngster when he was illegally detained and wrongfully charged in 20 cases of terror crimes in February 1998.
For 14 years, he struggle to prove his innocence and was eventually acquitted of all charges and in January 2012, he was free to walk out of the prison.
Another one called an ISRO 'spy'
This is the real story of Indian Space Research Organisation (ISRO) scientist S. Nambi Narayanan that rocked the nation in 1990s.
Narayanan, the then in-charge of ISRO's cryogenics division was "unnecessarily arrested and harassed" by the Kerala police in December 1994 in the infamous ISRO espionage case or so-called 'ISRO spy case'.
Narayanan, one of India's top rocket scientists was exonerated by the Supreme Court after the CBI probe and found no evidence and awarded a compensation of Rs 50 lakhs.
The 76-year-old scientists was honoured him Padma Bhushan, the third-highest civilian honour of the country.
Subscribe us on