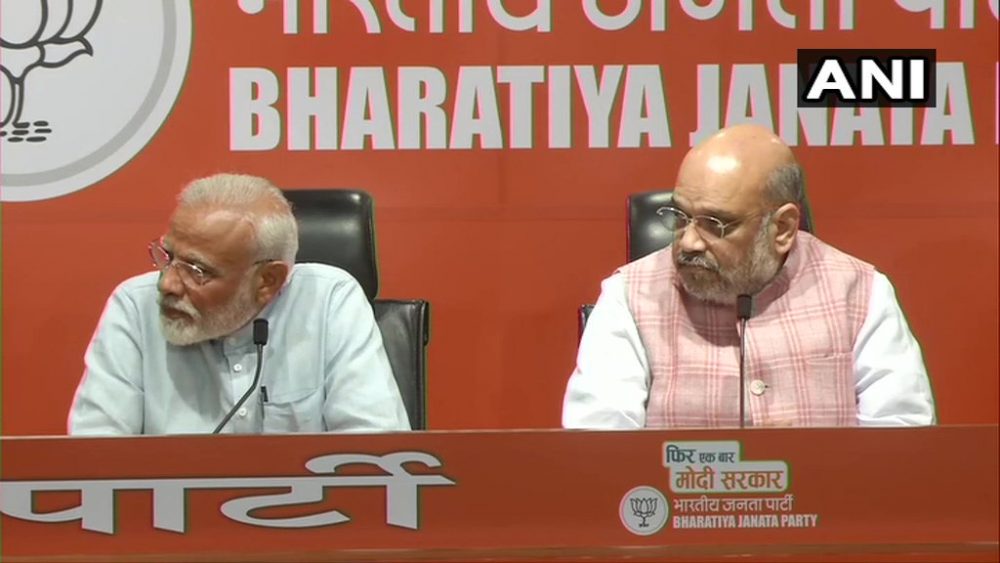 NEW DELHI: Hours after Prime Minister Narendra Modi castigated Bharatiya Janata Party candidate Pragya Singh Thakur publicly for her Gandhi-Godse remark BJP chief Amit Shah on Friday said the party made it clear that it does not regret fielding the 2008 terror accused.
At the historic briefing in five years chaired by BJP president, the Prime Minister admitted that her remarks were reprehensible not interjecting when Shah expressed no regret in giving Pragya the Bhopal ticket as it was a stand against the "Hindu terror tag."
Modi redirected the questions at him to the BJP chief, who replied: "The two issues are different. No, we have no regret, not at all."
"Pragya Thakur's candidature is our satyagraha (protest) against a fake case of 'saffron terror' foisted on her. The Congress compromised with national security and coined the term 'saffron terror' for its vote-bank politics…. Rahul Gandhi should apologise for this insult to Hindu culture."
Earlier, responding to a query from the News24 TV channel, he said: "The kind of remarks, statements made about Gandhiji and Godse is horribly wrong (bhayankar kharab). It is hateful, and these should be criticised and condemned in every which way. There is no place for such language, thinking in any civilised society. Those who do such things will have think a hundred times in future. It's a different matter that she has apologised, I will not be able to forgive her from my heart."
The Lok Sabha candidate from Bhopal, Sadhvi Pragya on Thursday called Mahatma Gandhi's assassin Nathuram Godse a "deshbhakt" (true patriot), triggering an immediate denunciation from her own party.
As her statement went viral, two BJP MPs — Union Minister Anantkumar Hegde and Karnataka MP Nalin Kumar Kateel – also came out in her support.
Distancing from the statements of party leaders, Amit Shah on Friday said the party's Disciplinary Committee will inquire into the matter and submit a report within 10 days.
BJP President Amit Shah on Pragya Singh Thakur's statement on Nathuram Godse: Party has served her a show cause notice & asked her to reply within 10 days. After she files a reply, party's disciplinary committee will take appropriate actions pic.twitter.com/vkPRCFAtae

— ANI (@ANI) May 17, 2019
Subscribe us on