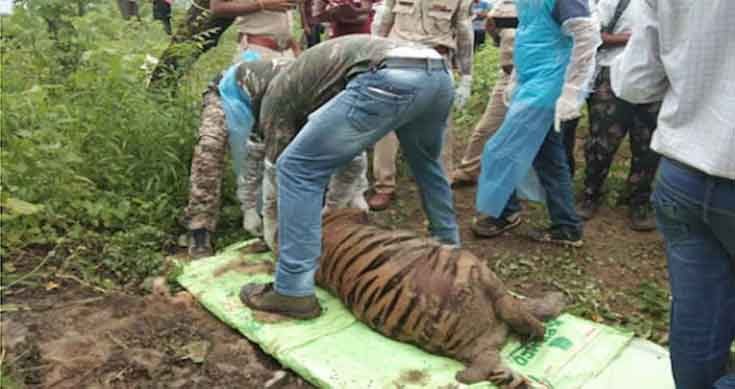 Hyderabad: On Saturday, one more tigress aged five-year-old found dead at a farm in Dhaba forest of Chandrapur district in Maharashtra.
Close to Maharashtra-Telangana border, a few km away from Sirpur of Komaram Bheem-Asifabad district of Telangana.
"The post-mortem revealed that the cause of death is poisoning," said Telangana forest officials who are investigating the case along with Maharashtra forest department officers.
"A wild boar carcass was found near the body of a fully grown tigress," forest officials said. Pieces of meat recovered from the big cat's intestines will be sent to the Regional Forensic Science Laboratory (RFSL) in Nagpur for toxicology and histopathology analysis.
Prima facie, autopsy reports suggest that the tigress died after it ate a wild board which was poisoned by locals of Podasa village near where it was found dead. Wild boars were destroying cotton crop so the villagers had laid out poisoned vegetation on the fields to kill the boars.
A boar that might have consumed the poison was later eaten up by the tigress, which led to its death.
"For now, forest officers from two states are worried about the safety of another tiger in the area whose territory extends across the forest patch between Maharashtra and Telangana."
Forest officers have failed to ascertain the geo location of the tigress, which had sexual matured only recently. The tiger mortality figure in 2018 was 20 in Maharastra. Telangana, which has only 26 tigers, lost two to poaching earlier this year.
Deputy conservator of forests A Shankaran said, "Tigers are transient animals, they wander in search of food and they do not know state boundaries. We cannot say if the tigress belonged to Telangana or Maharashtra."
Subscribe us on