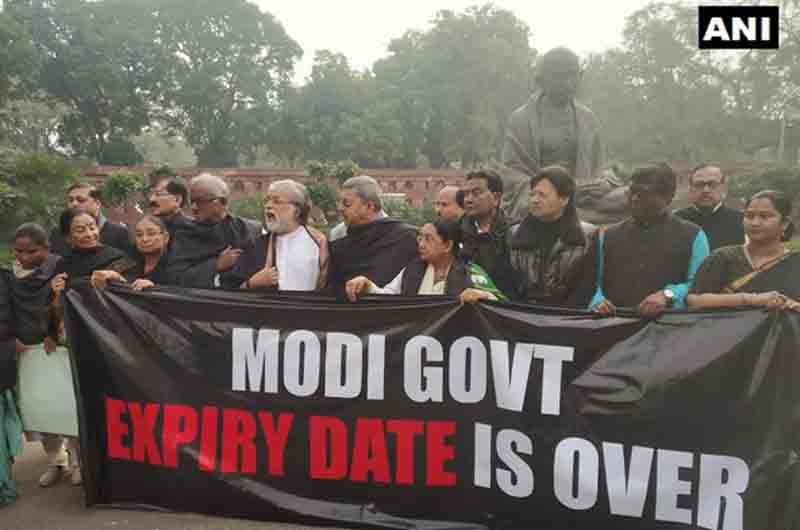 New Delhi: Trinamool Congress MPs on Wednesday wore black clothes to protest against the Centre for allegedly misusing the Central Bureau of Investigation. The TMC MPs were protesting outside Parliament on Wednesday.
The MPs were shouting anti-government slogans while holding a banner with the slogan "MODI GOVT EXPIRY DATE IS OVER".
Not only that, the protesters also demanded the resignation of Prime Minister Narendra Modi over alleged corruption in the Rafale deal.
The Rafale jet deal controversy has been on the boil over the last few months. The Congress and other opposition parties have been alleging irregularities in the high-profile deal.
The fighter jet is a twin-engine Medium Multi-Role Combat Aircraft, which security analysts believe can be a 'game-changer' for India's defence system.
On Monday, Congress President Rahul Gandhi also asserted that Prime Minister Narendra Modi facilitated loot in Rafale deal as according to a media report he had removed the anti-corruption clause from the controversial fighter jet deal.
A day later, on Tuesday, he used a fresh media report to allege that Prime Minister Narendra Modi had acted as a "middleman" for industrialist Anil Ambani in the Rafale fighter deal and accused him of violating the Official Secrets Act (OSA) and indulging in "treason" for which "action must be initiated.
[source_without_link]ANI[/source_without_link]
Subscribe us on