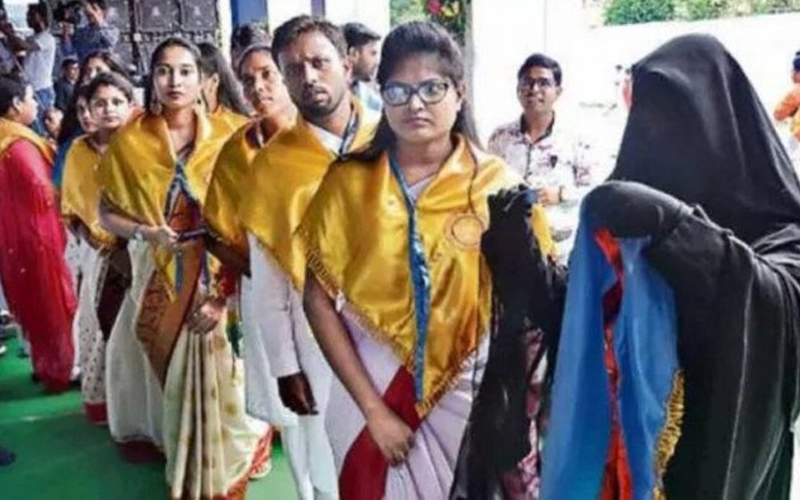 Ethnic cloths are making news in campuses these days.
Bizarre Rules At Campuses
Growing intolerance has already entered the campuses and bizarre rules are being introduced related to clothes in colleges across the country.
Recently, a girls college in Hyderabad made a strange new dress code forcing the students to wear knee-length kurtis.
Few days ago leading college in Firozabad district of Uttar Pradesh has banned entry of girl students wearing Islamic hijab or burqa.
The decision comes in the wake of a clash between two student groups.
Now a case of Ranchi's Marwari college in Jharkhand has come up in which a student was not given a degree as she was wearing a burqa.
Overall Best Graduate & Gold Medalist
As per reports, the over-all best graduate Nishat Fatima, who came to the College to take her degree in graduation ceremony could not get it in the ceremony on Sunday.
Nishat Fatima came wearing a burqa to attend the program. Her name was called for the gold medal at the ceremony as she had to take the medal first. However, at the same time, the college administration announced that she won't be given the degree as she was not in the prescribed dress code by the college.
After which the process of awarding medals and degrees to other toppers was started. Despite the dress code being fixed, Nishat's father Muhammad Ikramul Haq said that the burqa is included in their tradition.
The dress code was decided by the college in which the male student had to come in a white colored kurta pajama and the female students in a salwar-suit, scarf or sari blouse. For this, the college had already issued a notice.
Source:
With Muslim Mirror inputs
Subscribe us on