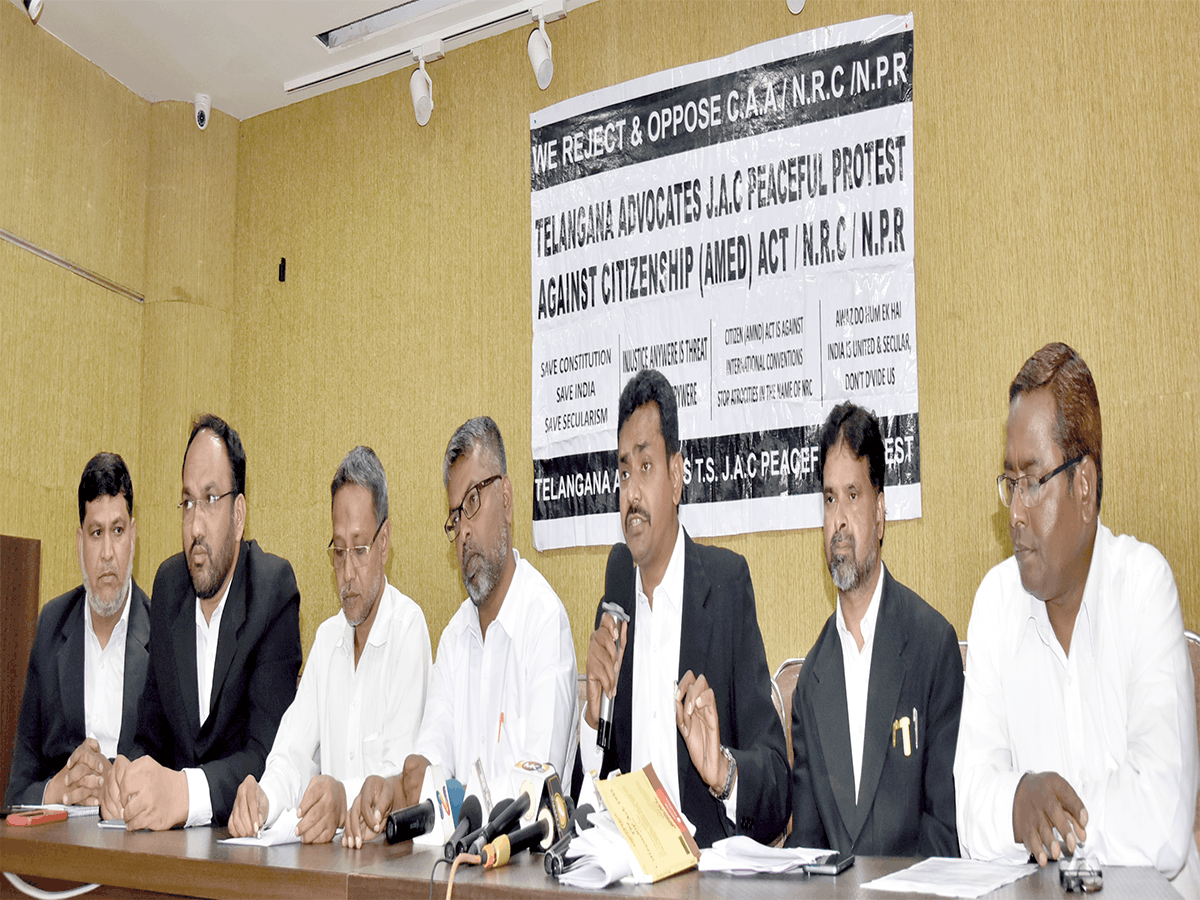 Hyderabad: Telangana Advocates Joint Action Committee has announced to organize a mass protest against CAA-NRC-NPR. Addressing a press conference on Saturday evening, the JAC of the Advocates said, "A peaceful protest will be organized at Dharna Chowk on 8th February from 12.30 pm to 4.30 pm to safeguard the secular character and spirit of Indian constitution".
The JAC appealed the advocates of Telangana to stand in solidarity with the committee for protecting the secularism of India. The committee said "although Prime Minister Mr Modi has announced that CAA does not take away citizenship, but his statements can only be trusted if the government refrains from implementing the NRC and NPR.
Even if CAA doesn't affect any citizens, it is the first step towards NRC and NPR, they said adding that national census in India is traditionally a decennial routine and must remain so. The government is trying to polarize it on the basis of religion. The advocates said "these laws are not only against Muslims but against all suppressed communities including the SCs, STs and tribals.
The JAC said "those who are opposing the NRC law are being branded as traitors and anti-national" while quoting Shaheen School in Bidar as an example. They said "the government has used a children's school play as an opportunity to target the school.
They thanked Telangana Chief Minister KCR for formally opposing the CAA and terming NRC as unnecessary. The JAC appealed the Chief Minister to use article 131 of the Indian Constitution to request the Central government against implementing NRC, CAA and NPR
Mr Wali Rahman, Mr Shafiullah Quadri, Mr M A Hameed and Mr Qureshi, Mr Afzal Deccani, Mr Shahnawaz, Mr M A Javed advocates were present on this occasion.
SIASAT NEWS
Subscribe us on