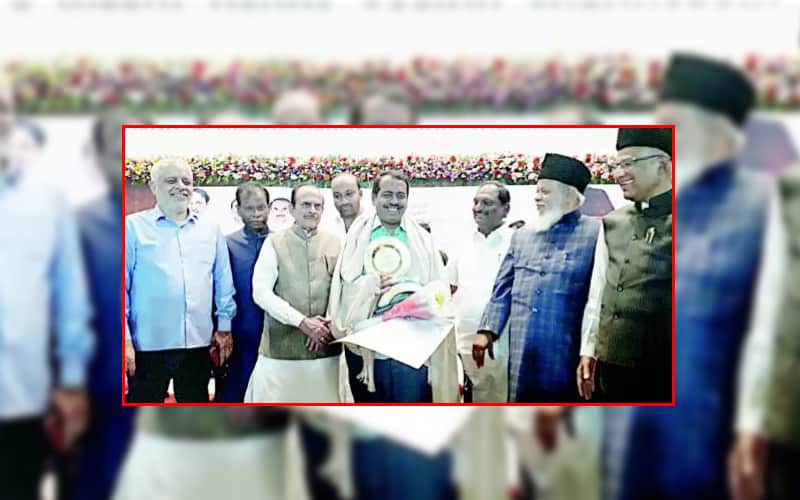 TS Urdu Academy presents Azad and Makhdoom Awards
Hyderabad: On the occasion of National Education Day to commemorate the birthday of the first Education Minister of Independent India, Telangana Urdu Academy presented Maulana Abul Kalam Azad and Makhdoom Mohiuddin Awards on 11th November.
Home Minister, Mr. Mohammed Mahmood Ali and Mr. K Eshwar, Minister of Minorites Welfare distributed these awards at Urdu Maskan, Khilwat, Hyderabad.
Mr. A.K. Khan, Advisor to Govt of T.S. on Minority Affairs, Chairman of State Minorities Commission. Mr. Mohammed Qamaruddin, Principal Secretary, Dept. of Minorities Welfare, Mr. Ajay Mishra, Director of Minorities Welfare, Mr. Shanawaz Qasim, Chairman of TS Urdu Academy, Mr. Mohammed Raheemuddin Ansari, former Director of Urdu Academy, Prof. S.A. Shukoor, Chairman of TS Haj Committee, Mr. Moahmmed Masihullah Khan and others attended the function.
For Maulana Abdul Kalam Azad Award, the names of Prince Muffakham Jahand Prof. Anwar Moazzam, former Head of the Dept. Of Islamic studies, Osmania University were suggested.
Prof. Baig Ehsaas was given Makhdoom Award. Mr. Mohmmed Rasheeduddin, Bureau Chief of Siasat Urdu Daily was given an award in the category of Journalism.
Subscribe us on