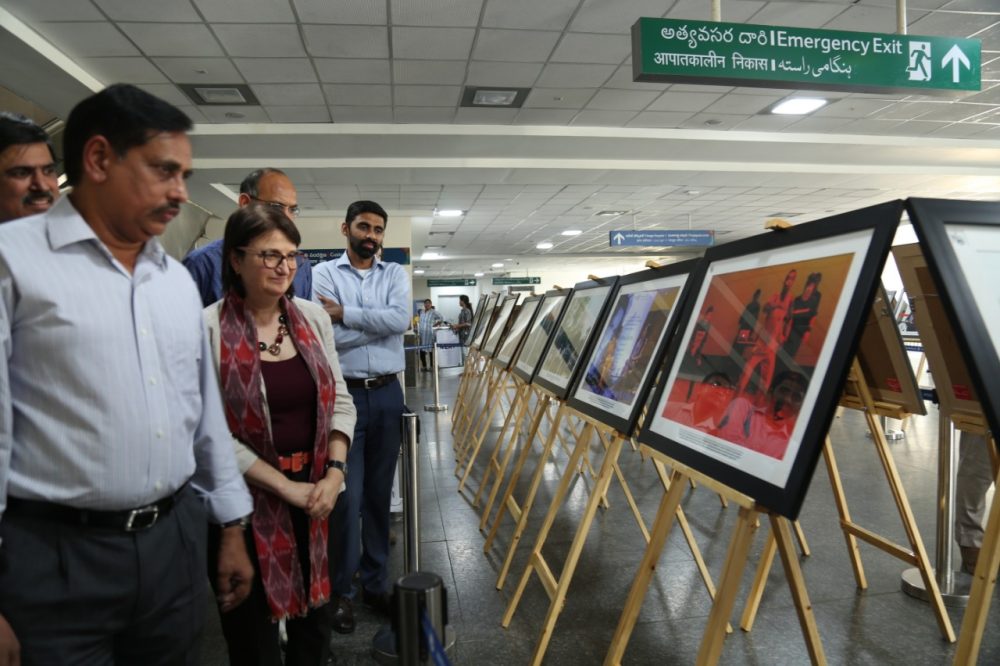 Mohammed Hussain email: mohammedhussain.reporter@gmail.com
Hyderabad: The U.S. Consulate has joined hands with Hyderabad Metro Rail to organize a phone exhibition chronicling its activities in the city during the last 10 years.
The exhibition that was opened on May 29 at Ameerpet Metro Station would remain open for the next two weeks. It would later travel to other parts of the State.
Katherine Hadda, Consul General, said, "We've been in Hyderabad for a decade now. Through this photo exhibit, we hope to showcase how much we've accomplished during this period. We have put on show photographs on topics ranging from promoting business ties to combatting human trafficking."
She added, "It is especially fitting to display our exhibit at Hyderabad Metro Rail. Our partnership with the Metro and Managing Director (NVS) Reddy is emblematic of the kinds of close cooperation we have in this region at all levels of government."
Reddy, Managing Director of Hyderabad Metro Rail, was on hand to inaugurate the exhibition.
The Consulate General has curated the selection of over 30 photographs after evaluating thousands of prints for inclusion. The photos trace a path beginning with U.S. President George W. Bush's visit to Hyderabad in 2006, all the way through the Consulate's latest initiatives, including the 2017 Global Entrepreneurship Summit. The photos were displayed at Rajiv Gandhi International Airport earlier this year.
"We are pleased to support the U.S. Consulate as it is marking a decade of activities in Hyderabad," commented Reddy.
[source_without_link]Siasat.com[/source_without_link]
Subscribe us on