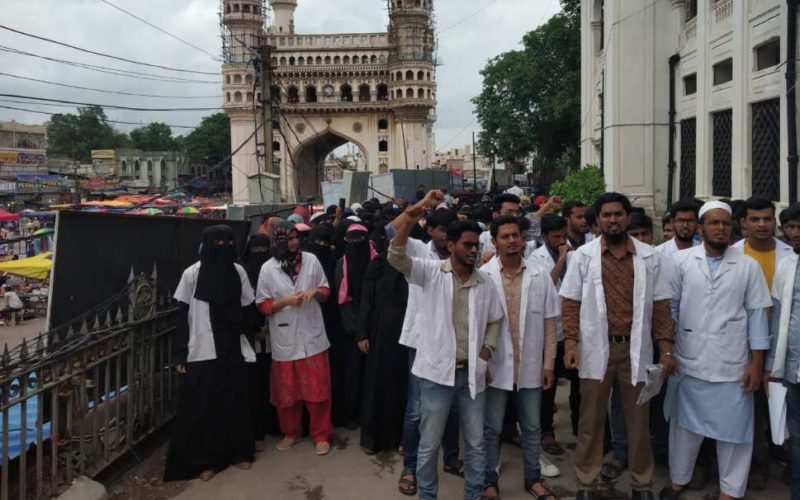 Hyderabad: Principal and students of government Nizamia Unani Medical College have said that "no one can forcefully occupy our premises."
The students of Dr. BRKR government Ayurveda College located at SR Nagar, on arrived at government Nizamia Unani Medical College, Charminar, on Wednesday against shifting of Ayurveda outpatient block and staged a protest.
Thought it is the State government which has been dilly dallying the shifting of Ayurveda College, the issue has taken an ugly political turn with MIM supporting the moving out of Ayurveda Outpatient block and the BJP opposing it .
Dr. Shahazadi Sulatana, Principal of Unani College, said that by noticing that Ayurveda hospital does not have necessary infrastructure, a portion of Unani college and hospital was given to it in 1951. "We helped them to provide services to the outpatients. Now they are refusing to move out," she said.
Dr. V.S. Alagu Varsini, Director of AYUSH, has passed an order on July 19, 2019, to shift the Outpatient block of Ayurveda to SR Nagar. But the students and the staff have refused to carry to out the order and resorted to "unlawful agitation."
According to hospital staff the Ayurveda outpatient block receives only about 15 patients daily.
Sources said that in 2001 a government order was issued to shift the Ayurveda unit from Unani hospital to its own institute at SR Nagar. Authorities intimated the Ayurveda staff to vacate the premises but they refused turning it into a political tussle.
Authored by Mohammed Hussain
mohammedhussain.reporter@gmail.com
Subscribe us on