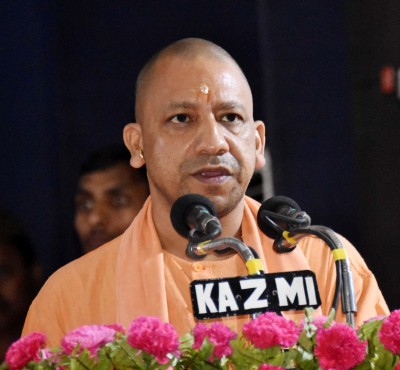 Lucknow, Nov 10 : Uttar Pradesh Chief Minister Yogi Adityanath on Tuesday thanked people for helping the ruling Bharatiya Janata Party (BJP) register a victory on six of seven seats in the just concluded state by-elections. Adityanath said the exceptional performance of the BJP in the bypolls give a "clear indication" of the party's chances in the upcoming 2022 state Assembly elections.
Speaking to reporters, the Chief Minister said, "The BJP has repeated its poll performance of the 2017 Assembly polls and 2019 Lok Sabha elections. These are clear indications that the party will perform well again in the upcoming 2022 Assembly elections. I thank the people for coming forward to vote."
Yogi congratulated the entire BJP electoral team for the victory and praised party workers for the exceptional win crediting it to the policies of Prime Minister Narendra Modi.
The Chief Minister said, "The state government and the BJP are working together as a team. Whether during the Corona pandemic where efforts were taken by the state government to save the lives of people, the BJP as an organisation works for the service of people. The spectacular work done by the the party workers has contributed to the bypoll victory."
The CM further said, "The BJP has performed well across the country under the guidance of Prime Minister Narendra Modi and leadership of party's National President J.P. Nadda. The bypoll results have proved again that only under PM Modi's leadership are such feats possible. Whether it is enhancing India's reputation on the world stage and taking measures for the welfare of every section of society, people continue to repose their confidence in the PM's leadership."
Deputy Chief Minister Keshav Prasad Maurya said that those parties which levelled unwarranted accusations against the BJP have been wiped out from the state. He said the era of 'Jungle Raj' and 'Mafia Raj' will never return in Uttar Pradesh. The path of 'Ram Rajya' will be followed here, instead.
Disclaimer: This story is auto-generated from IANS service.
Subscribe us on