Hyderabad: Recently declared Central Teacher Eligibility Test (CTET-2018) results brought cheers to the Department of Education & Training of Maulana Azad National Urdu University (MANUU) as its 80 students qualified CTET. Many students have qualified both levels one and two of the national level test conducted by Central Board of Secondary Education.
Dr Mohammad Aslam Parvaiz, Vice-Chancellor, MANUU congratulated the qualified students. He appreciated the hard work of students as well as the efforts by the Department of Education and Training.
The entrance test allows the successful candidates to teach for class I to VIII. The test is being conducted by National Council for Teacher Education to provide talented teachers to central government schools as well as KVS and other schools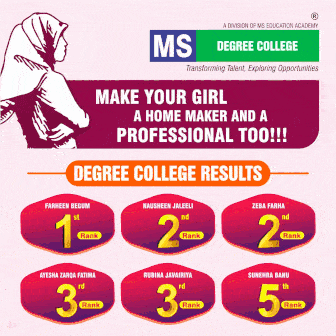 To felicitate the achievers a programme was organized by the Department of Education and Training recently. Prof. Fatima Begum, Dean, School of Education and Training presided over the function. Dr. Najma Begum, Assistant Professor welcomed the gathering and Dr. Shakera Parveen, Assistant Professor proposed vote of thanks. Dr. Md. Afroz Alam, Assistant Professor conducted the proceedings. Prof. Siddiqui Mohd. Mahmood, faculty members, non-teaching staff and research scholars attended the programmes and appreciated the achievement.
Subscribe us on