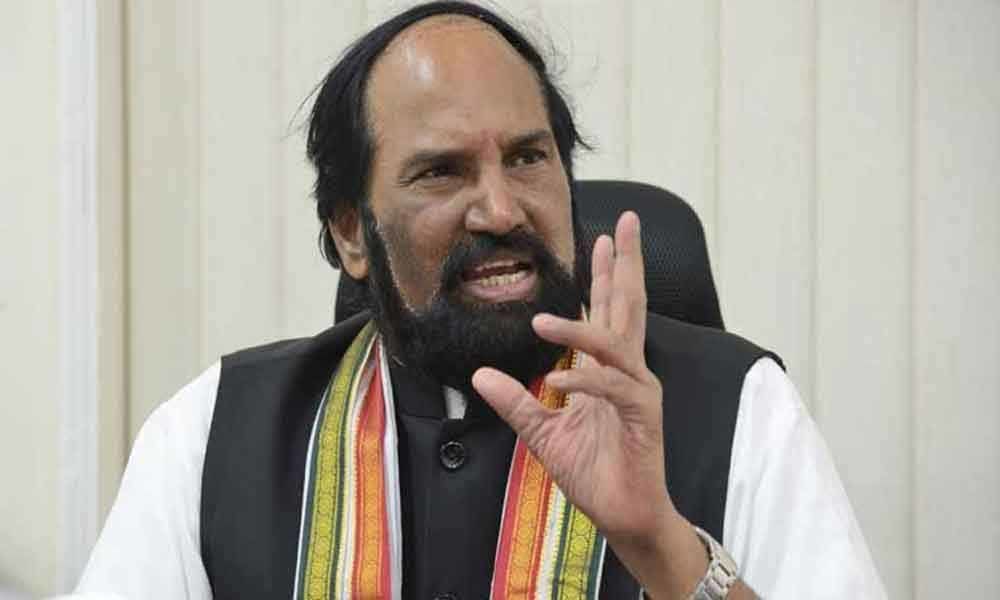 Hyderabad: With just a day left for the end of campaign for Huzurnagar bye-elections, Congress senior leaders including Telangana Pradesh Congress Committee (TPCC) President  N. Uttam Kumar Reddy, Working President A. Revanth Reddy, former LoP in Council Mohammed Ali Shabbir and other senior leaders stormed the streets of Huzurnagar with road shows which drew  crowd in the entire route.
Uttam Kumar Reddy, Revanth Reddy and other leaders launched their road show from Jana Pahad after offering special prayers at Jana Pahad Dargah. They boarded an open-top campaign vehicle and addressed the corner meetings en route. Technically, all the meetings they addressed were corner meetings at Jana Pahad, Palakeedu, Nereducherla, Garidepalli, Burugaddda and Mathampally. But the size of gatherings at all these places was no less than massive public meetings. While all the streets were completely packed, a large number of people climbed on rooftops, walls and even trees to have a glimpse of their favorite leaders. They cheered the leaders and shouted slogans in favor of the Congress party and its leaders.
Addressing the meetings, Uttam Kumar Reddy said he was seeking votes for Congress candidate and his wife Uttam Padmavathi on the basis of his performance and achievements in Huzurnagar. He said every bit of development in Huzurnagar became a reality due to his efforts as the MLA since 2009.
Uttam Kumar Reddy said that the TRS leaders were shamelessly seeking votes despite not fulfilling a single major promise they made with the people in previous two elections. He said Chief Minister K. Chandrashekhar Rao has turned so arrogant that he dismissed more than 48,000 RTC workers in a single stroke and even defied orders of the High Court to hold talks with employees to resolve their issues.
Revanth Reddy launched a scathing attack on TRS Government, especially CM KCR. He ridiculed the claims being made by TRS leaders stating that development would come if TRS wins Huzurnagar's seat. He asked as to why there was no development in constituencies being represented by TRS MLAs. 
Revanth Reddy said that Huzurnagar bye-election was no ordinary by-polls. He said they were about the self-respect of people of Telangana.
NSS
Subscribe us on