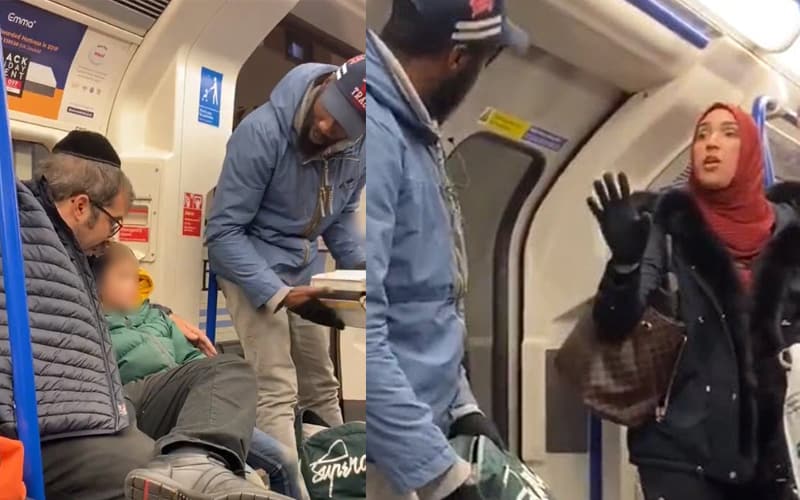 LONDON: A woman in the hijab has been hailed as "Hero of London" after she confronted a man over his anti-Semitic abuse directed towards a Jewish family on the London Underground.
The incident happened on the Northern Line in north London at around noon on Friday.
Video posted to Twitter shows the suspect with cap and hoody bending and reading the abusive material before accusing Jews of being "imposters" while other passengers look on in horror.
The suspect even threatened fellow commuters who tried to intervene before Asma Shuweikh, wearing a hijab confronted him.
Wouldn't hesitate to do it again
The mother-of-two, from London, told the PA news agency she "wouldn't hesitate to do it again".
I would have loved more people to come up and say something, because if everyone did, I do not think it would have escalated in the way that it did.
Incredibly brave
Chris Atkins, who filmed the incident, called the Muslim women "incredibly brave".
Fellow passenger Chris Atkins took the video after catching the Tube heading south on the Charing Cross branch of the line at midday on Friday.
He said: "The Muslim woman didn't take any shit from him and really, really took him to task, very firmly and persistently."
"In this day and age we are told how intolerant everyone is and all religions hate each other, and there you had a Muslim woman sticking up for some Jewish children," Mr Atkins told PA.
Hailed as "hero"
Ms. Shuweikh attracted widespread applause and was hailed as "hero" for her 'bravery and selflessness'
Here are some tweets:
Subscribe us on