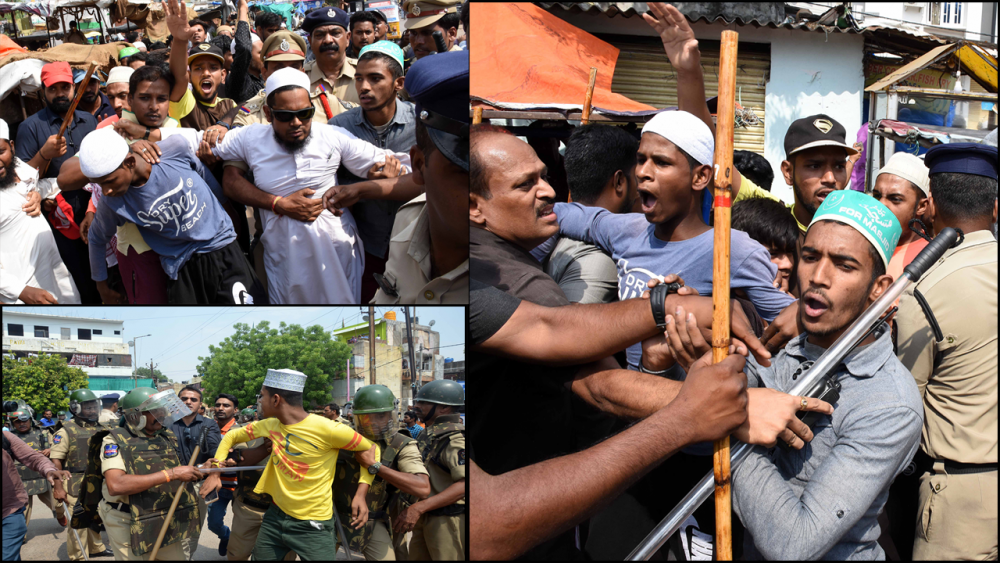 Hyderabad: Police arrested the youths who reached Masjid Ek Khana with an intention to offer Namaz-e-Zohar.
It may be mentioned that Darsgah-e-Jihad vo Shahadat (DJS) had made an ap appeal on social media to the Muslims to assemble at the dismantled Masjid-e-Ek khana to register their protest. Police had become alert after this protest appeal was released.
In the morning, police had arrested Mr.Mohammed Abdul Majid, President of DJS, Mr. Shaik Saifullah Khalid, son of Shaik Mahamoob Ali (Late), Secretary of DJS and Maulana Mohammed Naseeruddin, President of Wahdat-e-Islami Organization.
The situation had become tense in the morning itself yesterday due to which Intelligence Agencies had maintained a strict vigil on this area.
Observations were also being made through CCTV cameras. Police had set up 8 checkpoints to stop the protesters from reaching the Masjid.
Despite this, many youths had assembled at Dargah Hazrat Siddi Amber and they were proceeding towards Masjid-e-Ek Khana. Police arrested and shifted them to Osmania University police station.
Police had made elaborate arrangements to stop the protesters. They and put barricades and diverted traffic.
It may be mentioned that Raja Singh, BJP MLA of Goshamahal had also requested the Hindu Youths to become active to foil the protest programme of DJS.
Police had kept a strict vigil at the residence of Raja Singh. He did not come out of his house.
Police arrested BJP Leader, Jitender and City President of BJP Yuva Morcha, Vinay and his 25 companions when they were making an attempt to march towards the said masjid.
Maulana Mohammed Naseeruddin had also appealed to the Muslim youths to offer Zohar prayer at Masjid-e-Ek Khana.
Police had posted its force at his residence located at Jeevan Yar Jung colony.
As soon as he came out of his house, police arrested and shifted him to Panjagutta police station.
It may be mentioned that GHMC officials had dismantled masjid-e-Ek Khana a few days back after which unrest was created among the Muslims.
Some Miscreants had pelted stones on the Muslims Youths who had reached Masjid-e-Ek khana to offer Namaz. In the incident, five youths were injured. Police cordoned the area and prohibited the Muslims to offer namaz after this incident took place.
[source_without_link]Siasat News[/source_without_link]
Subscribe us on