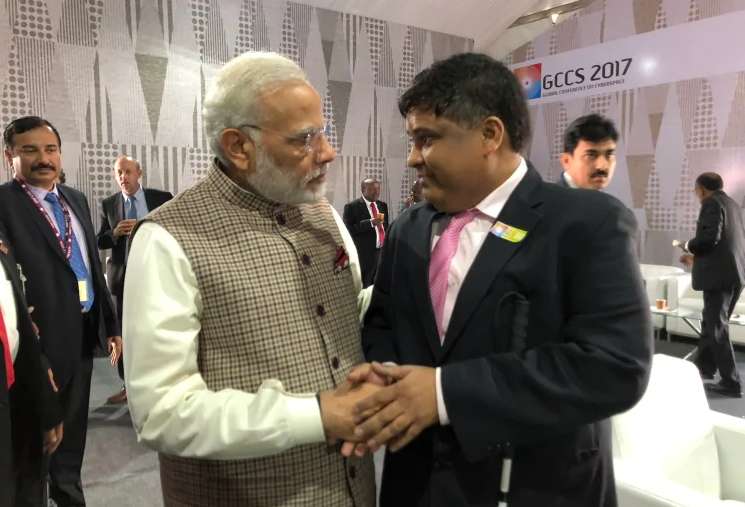 Hyderabad: Mr. Md.  Asif Iqbal Associate Director at PriceWater Cooper's story is of grit determination and courage especially since he may be visually handicapped like millions across the globe but is different because the way he uses technology efficiently that it will drive those with a vision to discomfort.
He uses technology like child's play. He has been instrumental in designing and implementing social inclusions strategy enabling Aadhaar enrollment for marginalizing groups such as disabled residents leprosy-affected residents,.homeless migrant labors in India for UIDAI scheme. He chanced upon meeting Prime Minister Narendra Modi who discussed the efforts of the government in introducing universal access to infrastructure services and opportunities for the differently-abled in India.
Mr. Md. Asif Iqbal was speaking at the 11th NAR India Convention-Game Changer', a two-day national level convention of the realtors organized by the National Association of Realtors (NAR) at Hyderabad International Convention Centre on Saturday.
 Speaking on the subject   "Nothing is impossible" he recalled how he was shocked during his younger days when he was told that he would go blind in future and how he was humiliated in school by teachers and colleagues. The Teachers prodded him that he had a dark future and there was no future in studying. Md. Asif Iqbal felt humiliated at every step but wanted to live a life of dignity. He then spoke about how his parents took him to a school in the US and a chance exchange with a teacher changed his whole attitude. When he got "b " in all his subjects elated he went to his class teacher who said 'honey, I know you are visually challenged have come to a culturally different country for the first time. You have done good for yourself but can do better ". And that was the turning point and realized that he was capable without his eyesight too. He went onto completing High studies including MBA from Pune and there was no looking back He not only an Associate Director at Price Water Coopers (PwC) but is one of the best motivational speakers, developed a lot of technology, is the first Indian visually impaired but also runs Marathons.
Mohd Asif Iqbal, associate director, Price Waterhouse Coopers (PwC), depicting the theme 'Game Changers' narrated his ordeal while pursuing his studies as a visually-impaired person.
"I faced discrimination and discouragement while I was growing up. I fought all the adversaries with effective usage of technology.
"I use a laptop which has a screen-reader software and enables me to understand things."
In fact, many other speakers at the convention were of the opinion that new-age technologies, especially like artificial intelligence and satellite imaging, will boost the growth of the real estate sector as well.
In his closing remarks he says 'Seediya Unko Mubaraak Hoh Jin ki Manzil Chath Hai . Hamri Manzil tho Falak (Asmaan) hai Rastha Hum Khjud Banalenge ".
Sujatha Burla, a real estate entrepreneur and survivor of an accident which left her paraplegic and bound to the wheelchair for the last 18 years, shared her success story, "People treated me like a bitter vegetable but that only made me stronger. I had invested in land and stock market which gave me profits over a period of time. My health remained unchanged but my wealth grew exponentially."
The Conference aimed at streaming and promoting the profession of real estate and real estate brokerage in India so that they achieve Transparency, accountability, fair dealing and ethical practices
Mr. Ravi Varma Chairman NAR India Mr. Irshad Ahmed President NAR India, Mr. Sumanth Reddy Irani  President-Elect NAR India 2019.20President Hyderabad Realtors Association Mr. Shailendra Singh Chairman Convention and Mr. Samir Arora Co-Chairman Convention were among the dignitaries present .
Siasatnews
Subscribe us on