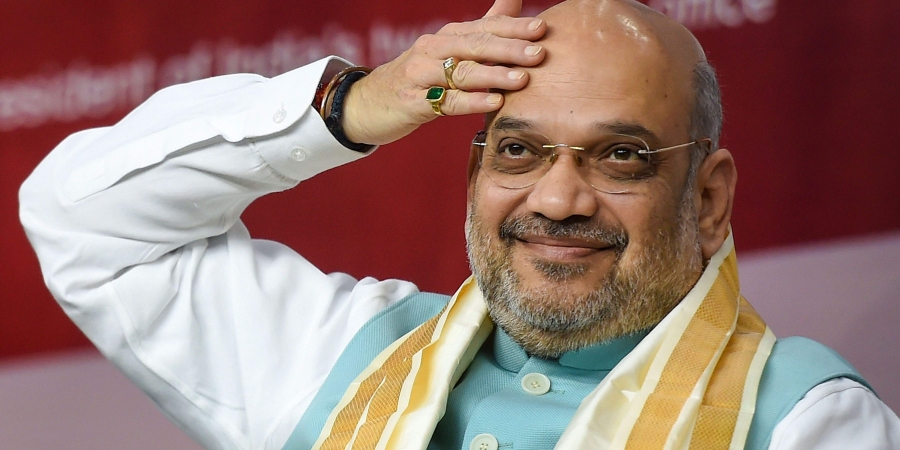 Hyderabad: The Bhartiya  Janta Party Telangana chapter will celebrate the Telangana  Liberation Day (Telangana Vimochana Diwas) on a grand scale on September 17  for which BJP National President Amit Shah has confirmed to participate in the program .
Disclosing this here today Mr. Bandaru Dattatreya BJP former Union Minister and senior leader said that the Telangana Vimochana Diwas will be celebrated all over the State in every Mandal and every district in a big way .The BJP will pay homage and tributes to freedom fighters Komram Bheem and other martyrs who sacrificed their lives against the Razakar's oppression and Liberated the State of Telangana from the Razakar's clutches
Addressing a press conference here today Mr. Bandaru Dattatreya along with Sudhakar Sharma BJP spokesperson demanded the Chief Minister K.Chandrashekar Rao to celebrate the event officially in a grand scale .Just as the way Chief Minister is observing the National agenda of hoisting the National flag on August 15 at Golconda similarly he should observe September 17 during which Telangana was Liberated by Sardar Vallabhai Patel.
He urged the Chief Minister not to link the Telangana Liberation Day with religion .KCR was backing MIM which are the Razakar followers and was hurting the Hindu Sentiment which was wrong .
He said that Telangana was under the Nizam oppression which was big in history and he should not forget the same. He also demanded that a chapter on Liberation of Telangana  should be included in history text books  Mr. Bandaru Dattatreya alleged that just like Congress  who was giving religious colour to Article 370 TRS was indulging in appeasement politics and giving Telangana Liberation Day a religious colour. He demanded to know  KCR had said that he fought for Telangana and Telugu pride then why he is against celebration of Telangana Liberation Day he questioned.
Reffering to Article 370 Dattatreya said that abrogation of Article 370 by the Prime Minister Narendar Modi and National President Amit Shah is a bold step and lauded them for this effort.
He strongly criticized the Congress for not having any policy on the issue and alleged that they were speaking without any substance and direction . Strongly criticizing Chidambaram for his statement on Kashmir by stating that since it was a Muslim stae they abrogated the Article 370 had it been a Hindu state the Government would not have abrogated the Article . Reacting to the Statement Mr. Dattatreya reminded him that other Union Territories like Ladakh and Jammu were Hindu dominated but even they lost the special status and therefore there was nothing like religious sentiment but a national issue. By giving it a religious colour Chidambaram appears to have lost his mental balance he alleged and demanded him to be more responsible . Mr. Dattatreya said that if Mr. Chidambaram had any sense he should know it is national Unity and a prime cause for which Terrorism was being encouraged . Seventy years since Pakistan was using the special status to its advantage .Stating that it was important to abrogate the Article for national cause and not a separatist agenda . In fact many stalwart Congress leaders had favoured abrogation as early as 1963 .
He also asked Sonia Gandhi and Rahul Gandhi to read the speech of Congress stalwart leader T. Hanumanthiah who had on the floor of Parliament demanded immediate scrapping of the Article Several stalwarts from Congress then had demanded its abrogation whereas this Congress is linking to appeasement and making all kinds of statement which was giving Pakistan ammunition to speak against India . .
He alleged that the Congress was indulging in vote bank politics and appeasement   of minorities and said t hat they should understand this.
Siasat news
Subscribe us on