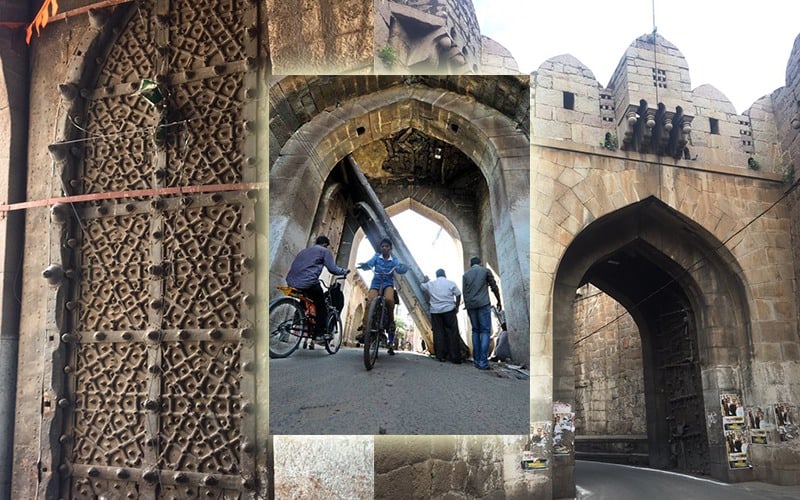 Hyderabad: The 10-km-long solid granite containing 87 colossal bastions and five massive teak gates studded with iron spikes protected the Golconda Fort from intruders, including the Mughal Emperor Aurangzeb for 500 years.
The stone and metals used to build the imposing Golconda fort are strong enough to last another 500 years although they don't perform the security duties of that medieval period. And yet they look tired and worn out not due to natural elements or the vagaries of time, but because of the lack of help from its keepers, the Archeological Survey of India (ASI).
The stone and metals used to build the imposing Golconda fort are strong enough to last another 500 years, although they do not need to perform the security duties of that medieval time.
Towards the eastern portion of the fort are the most frequented gateways, namely Fateh Darwaza and Moti Darwaza. Five years ago, Moti Darwaza got detached from its arch. This occurrence even caught ASI off-guard.
Only later did the group realize the need to firm up all five gates with thick metal strips. At long last, all gates — Jamali Darwaza, Tolichowki and the Mecca Darwaza, which opens up into Ramdevguda and Banjari Darwaza, have been strapped with metal to prevent them from collapsing.
All these gates serve as an entry point to over five lakh people who live inside the fort and walk in and out of it every day. Each of the gates has undergone reinforcement due to being driven upon by traffic heavily, including RTC buses.
Recently, traffic signals were installed at Banjari Darwaza and Fateh
Darwaza to regulate traffic movement. The developmental works included digging and road layering. Multiple layers of cement and asphalt have virtually buried the base portions of all five gateways.
The corrosion and disintegration of these gates below the asphalt cover have gone unnoticed. Attempts to contact ASI officials regarding this were in vain. The iron spikes on the Fateh Darwaza are so broken that the teak is visible.
"The teak is perhaps 500 years old, as the fort turned 501 this year. It is getting weather-beaten day after day. It has also turned weak because civic officials dig up the road open every now and then. It may not fall soon because ASI has used metal strips but if the situation continues, one can't guarantee anything about the future," said Imam of the Noorani Masjid located next to Fateh Darwaza.
All the outer gates face the severe threat of encroachment despite the ASI notice boards next to each gate that warns against any form of construction in a 200-meter periphery.
The Bala Hisar Gate inside the fort is devoid of vehicular movement. Hence, it maintains its grandeur. The teak isn't visible and the studded spikes retain their perfectly angular cut. The others, however, can't boast of such excellent conditions courtesy of overuse and little maintenance.
mohammedhussain.reporter@gmaill.com
Subscribe us on