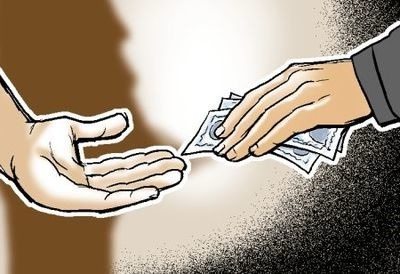 Hyderabad: These days winning an award for "exemplary services" on Independence Day is no testament to integrity. This became amply clear on Friday, when a police constable of I-Town Police Station in Mahabubnagar district was arrested by ACB officials for demanding and accepting bribe, just a day after he was decorated with an award on the occasion of Independence Day for his "exemplary services".
According to ACB officials, the constable, Palle Thirupathi Reddy, was caught red-handed on Friday while accepting a bribe amount of Rs 17,000 from a complainant under duress.
"He was nabbed right from the I-Town Police Station premises by our team who went to trap him. He had demanded the said amount from Mudavath Ramesh for doing an official favour so as not to implicate him by booking false cases against him and threatening to seize his tractor and take it to the Police Station," said the official.
The bribe amount of Rs.17,000 was recovered from Reddy's pants' back pocket on the left side and both his hands tested positive in the chemical test. Following his arrest, Thirupathi Reddy was produced before the Special Judge for SPE and ACB cases, Hyderabad.
Authored by Mohammed Hussain
mohammedhussain.reporter@gmail.com
Subscribe us on