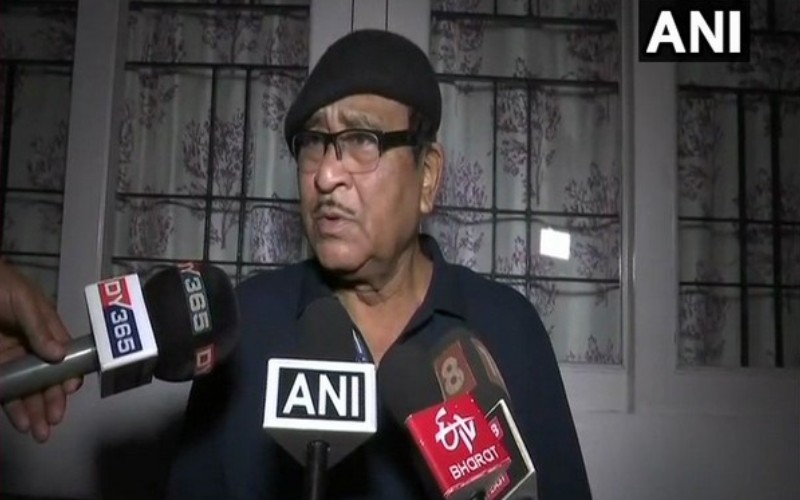 Guwahati (Assam): The family members of noted Assamese singer-composer Bhupen Hazarika are divided over whether they should accept the prestigious Bharat Ratna award conferred upon him or not.
Responding to the reported statement of Tez Hazarika, who is settled in the US that he is against accepting the coveted award to protest against the Citizenship Bill, which seeks to give citizenship to non-Muslim immigrants in Assam, Bhupen's family members sounded a discordant note on Monday.
Talking to media persons here, Samar Hazarika, brother of Bhupen Hazarika said: "We have not recently spoken to Tej. Today I have heard that he has refused to accept the Bharat Ratna on behalf of his father. I am of the view that Bhupen deserved Bharat Ratna, which he should have been conferred upon a long time back."
"It is a government decision, which is certainly belated one. The award has been given to Bhupen Hazarika. However, I do not know whether his son should accept the award on behalf of his father or not. Bhupen Hazarika is a pride of the entire nation," he said.
Bhupen Hazarika's sister-in-law Manisha Hazarika told ANI: "On behalf of our family, I am saying that Bharat Ratna is such an award that belongs to India. Bhupen Da is a legendary figure. He is above politics. I am happy that though belated Bhupen Da has been chosen for the Bharat Ratna award."
Bhupen Hazarika was posthumously honoured with the highest civilian award this Republic Day along with former President Pranab Mukherjee and late social activist Nanaji Deshmukh.
Earlier this month, renowned Manipuri film director Aribam Syam Sharma had announced his decision to return the Padma Shri that was conferred on him in 2006 in protest against the Centre's Citizenship (Amendment) Bill.
The northeast states, especially Meghalaya, Manipur, and Assam, have been burning over the past several months in protest against the contentious Citizenship Bill that seeks to give citizenship to non-Muslim immigrants from three other countries.
The Citizenship Amendment Bill, 2016 was passed in the Lok Sabha on January 8. It will facilitate citizenship of six identified minority communities, namely, Hindus, Sikhs, Jains, Buddhists, Christians and Parsis from Afghanistan, Pakistan and Bangladesh who came to India before December 31, 2014.
The proposed amendment in the Bill will make these persecuted migrants eligible to apply for citizenship. Under the proposed amendment, the minimum residency period for citizenship is being reduced from the existing 12 years under the present law to seven years.
Prime Minister Narendra Modi, while congratulating Bharat Ratna awardee Bhupen Hazarika, said: "The songs and music of Bhupen Hazarika are admired by people across generations. From them radiates the message of justice, harmony and brotherhood. He popularised India's music traditions globally. Happy that the Bharat Ratna has been conferred on Bhupen Da."
[source_without_link]ANI[/source_without_link]
Subscribe us on