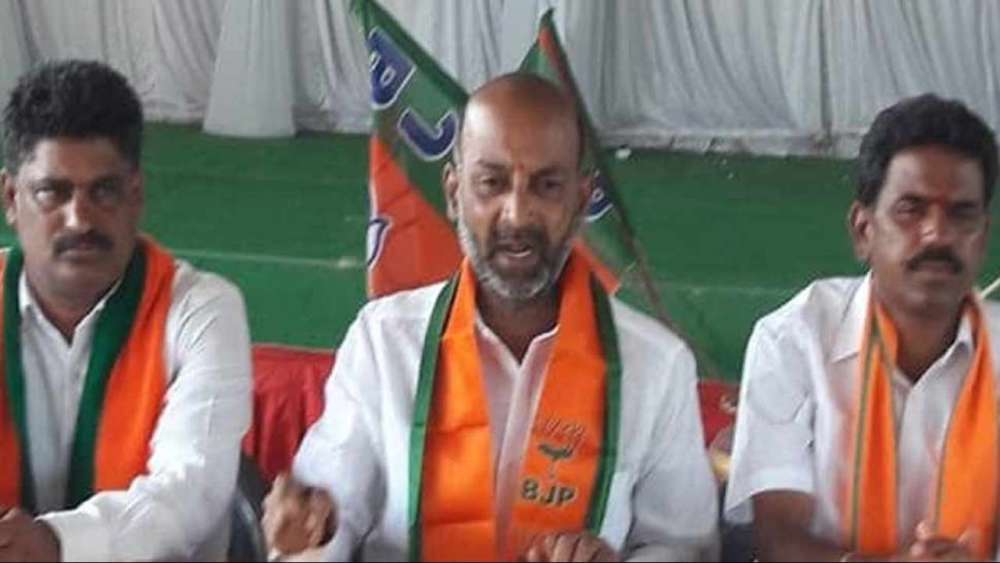 Hyderabad: The BJP MP Bandi Sanjay demanded a thorough inquiry into the serious frauds being committed by Granite businessmen in active connivance from ruling political party in Telangana.
Addressing a press conference here today Mr. Bandi Sanjay Member of Parliament , Mr. N.V.Subhash along with  Rakesh Reddy  Sudhakar Sharma and others said that several voters in Karimnagar from where Mr. Bandi Sanjay hails have complained that his constituency is affected by pollution from mining and have reported irregularities and illegalities by submitting categorical documentary proofs of quarry agencies during the transportation of granite blocks through Goods train to Shipyard harbor and seaports in various places to Kakinada Chennai etc.
After thorough verification of transit forms, the Assistant Director of Mines and Geology Vigilance Rajamundry have found that the blocs which are lying at seaport have no documentary proof and noticed variations occurred from railways transit to seaport. These grave irregularities are thoroughly inspected by the Vigilance department of mines and Geology Rajmundry and issued notices to all concerned quarry agencies the copies of which Sanjay Bandi informed were obtained under RTI Act.
Stating that the irregularities in the number of mines transported to the sea through rail were ascertained by the Department of Vigilance of Mines at Seaports he alleged that there were grave irregularities and that it was being done at connivance from ruling party workers. Without naming the person he alleged that the Telangana government deliberately did not collect normal plus five time s penalty  Seigniorage fee from granite agencies as most of the queries are either operated or owned by ruling party leaders and followers.
Alleging that there was a concerted bid by State Government and granite owners to cover up their illegal mining activity further to evade penalties and taxes as assessed by the Vigilance department on each company. He, therefore, demanded an immediate inquiry in coordination with Railway department and seaport and private trucks who transported such granites and demanded verification of invoices from concerned departments to decide how much fraud is occurred and how much seigniorage fee is avoided by these quarry owners. he pointed out that the Government of China has already caught such importers who avoided the taxes seigniorage fee by transporting granites who were shown reducing the quantities of granite block which is exported through seaports and imposed heavy penalties.
Stating that the BJP will not remain quiet on the issue and will expose every detail he said that they would not only go to the Governor but demanded a CBI inquiry besides said would go to Centre and other concerned stakeholders to get the truth and punish the culprits. They demanded a thorough inquiry into the matter and take necessary action against those economic offenders and collect seignorage fee along with the necessary penalty he added.
Siasatnews
Subscribe us on