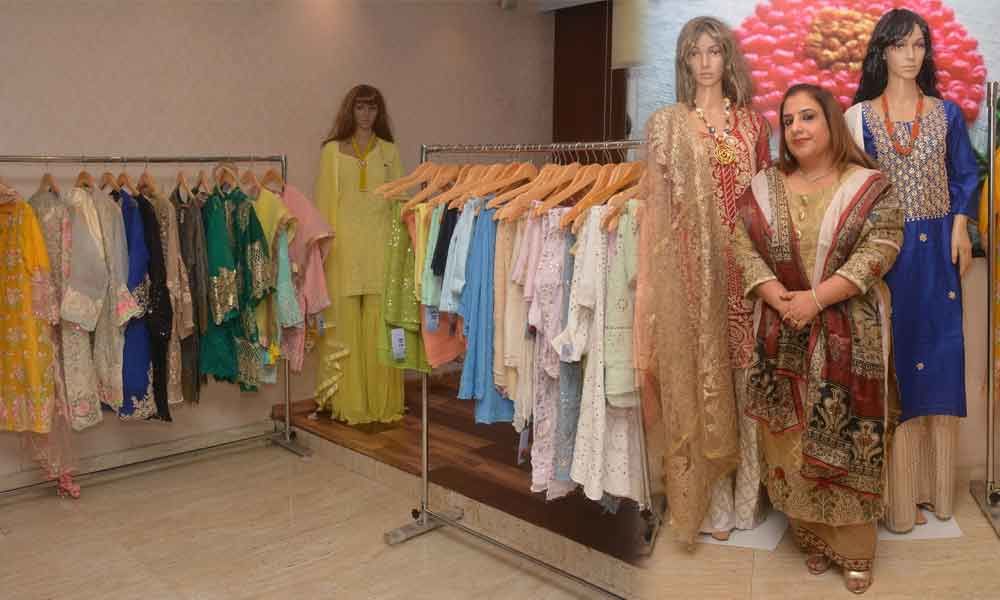 Ramzan dressing is about glitz, glamour and going all the way out to bring in the festive bling to the dressing. Be it the traditional shararas, ghararas or the long dresses with intricate embroidery, ethnic designs to layered look, understated elegance to enchanting extravagance – there is much variety out there for the fashionistas.
Adding to the options is Delhi-based designer Charu Arora who brought to Hyderabad her own designs, a few Pakistani labels that have become popular over the years, Lucknowi ensembles and Jaipuri fashion labels.
Her collection is showcased at the restaurant Angaara, featuring heavy glittery designs to simple cotton kurtas from a variety of labels.
"Since Hyderabad does not have much of its own production, we wanted to get the collection that popular here, which includes Pakistani Agha Noor – an all-time favorite, our production of heavy ethnic wear, and the Jaipuri and Lucknowi dresses hand-made by artisans. She says embroidery, especially Kundan work and Gota Patti is trending this season.
Ethnic footwear (Kolhapuri) too is added to the collection. Advertise With Us Giving out suggestions for women to shop the right outfit this festive and wedding season, she said, "The only thing that I could possibly think of advising somebody is that one should keep the trends in mind and also at the same time should wear what best suits instead of running behind celebrity outfits. You should wear what you can carry." "I keep my dresses very simple; I suggest that one should be comfortable wearing a dress," she adds.
One can never go wrong with pairing a simple kurta with something that looks grand and elaborate, she shares, "If you wear a simple kurta you need to pair it up with a good bottom like shararas or ghagras. A simple sharara with some golden embroidery or chevron crisscross will make the outfit look bolder." Turpan by Charu Arora is open till May 31.
For More Detail Contact: ‎81301 70576
[source_with_link url="https://www.thehansindia.com/featured/womenia/bringing-festive-cheer-to-dressing–533731″]thehansindia[/source_with_link]
Subscribe us on