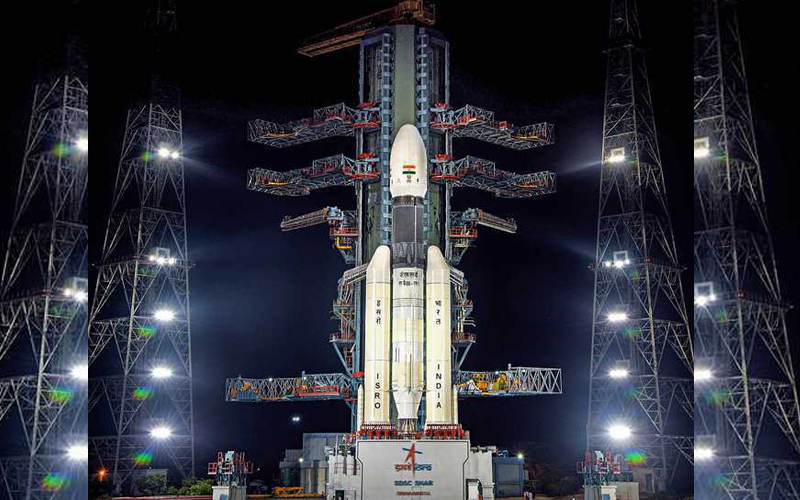 Bengaluru: The telemetry, tracking and command network of the Indian space agency (ISTRAC) performed the third lunar-bound orbit manoeuvre for Chandrayaan-2 spacecraft, the agency said on Wednesday.
"The manoeuvre was performed successfully today (Wednesday) beginning at 9.04 hours IST, using the on-board propulsion system. The duration of the exercise was 1,190 seconds (19.84 minutes)," said the Indian Space Research Organisation (ISRO) in a statement on its website.
All the parameters of the 2.4-tonne box-shaped spacecraft Orbiter with lander Vikram and rover Pragyan inside it are normal.
Though the manoeuvre was originally to be conducted between 5.30-6.30 a.m., an ISRO official told IANS that it was re-scheduled between 8.30-9.30 a.m. for operational reasons.
"The next lunar-bound orbit manoeuvre is scheduled on August 30 between 6-7 p.m. IST," the statement added.
The Rs 978 crore Chandrayaan-2 mission was launched on board a heavy rocket (GSLV Mark-III) on July 22 from Sriharikota in Andhra Pradesh off the Bay of Bengal coast, about 90 kms northeast of Chennai.
The second manoeuvre was performed on August 21 as planned after the spacecraft was inserted into the lunar orbit on August 20.
In the run-up to Vikram soft-landing with Pragyan near the moon's south pole between two craters in early September 7, a couple of manoeuvres will be performed to take the spacecraft to its final orbit at about 100 km from the lunar surface.
On September 2, Vikram will be separated from the spacecraft Orbiter through a complex manoeuvre for gradual descent and landing with rover inside it five days later.
"As the Orbiter rotates at 90 degrees over the moon, onboard engines will be fired on September 2 to separate Vikram from the top of it and lower it to orbit around 100 x 30 kms above the lunar surface for soft-landing near the south pole on September 7," said ISRO Chairman K. Sivan on August 20 here.
The Orbiter will observe the lunar surface and relay communication between earth and lander Vikram. The spacecraft will orbit around the moon for over a year over its north-south poles, charging and keeping all its robotic instruments active through its solar panels and conduct various experiments.
Subscribe us on