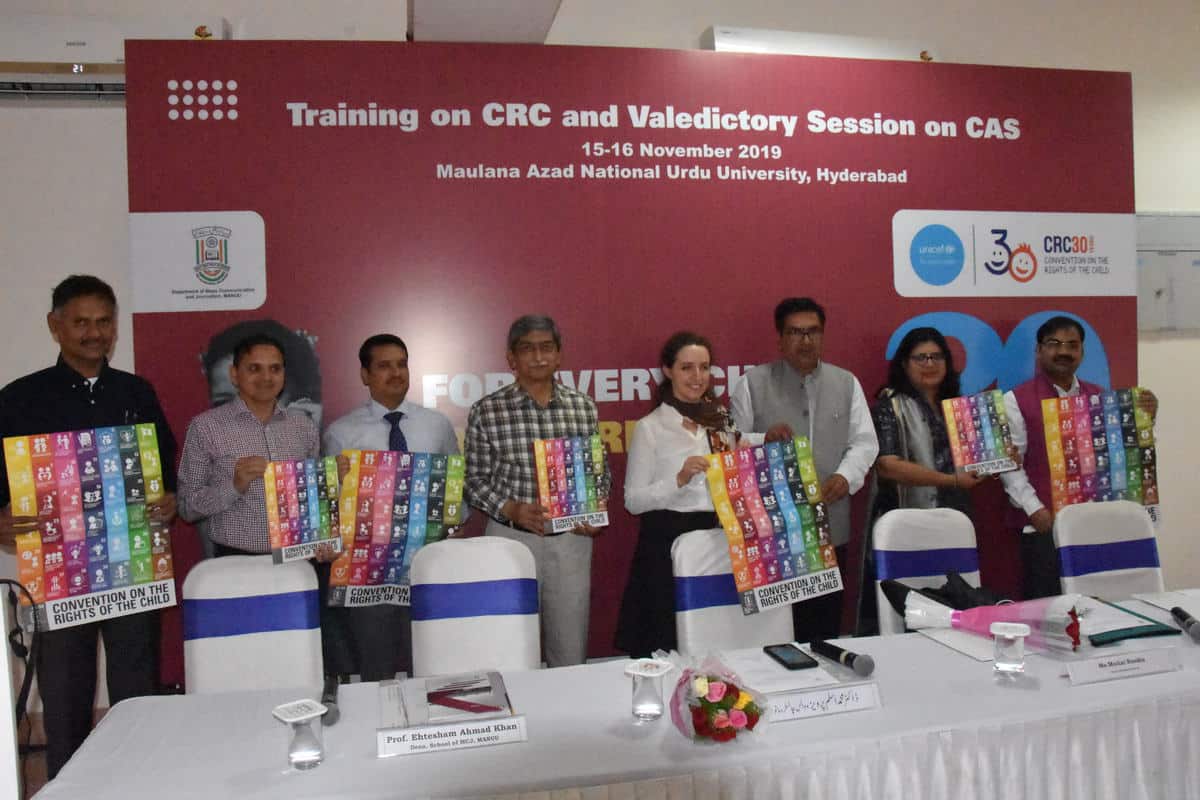 Hyderabad: A child's first right is a healthy, educated and broadminded mother. We must focus on mental health in addition to physical health for overall well-being. These were the views expressed by Dr. Mohammad Aslam Parvaiz, Vice Chancellor, Maulana Azad National Urdu University (MANUU) in 'Convention on the Rights of the Child' (CRC) workshop supported by United Nations International Children's Emergency Fund (UNICEF) in the campus on Friday.
Speaking to students of health journalism course, Dr Aslam Parvaiz noted that awareness on health and healthy living is critical for them to write about it on various platforms. He opined that the health awareness in the Muslim community is low. He urged the budding health journalists to liberate minds of people from misconceptions related to health.
UNICEF – Chief Field Officer, Meital Rusdia, in her welcome address, informed that Unicef is celebrating 30 years of CRC. She added that this celebration coincides with 70 years of presence of Unicef in India. She briefed about the collaboration between UNICEF and MANUU in running health journalism course as Critical Appraisal Skills (CAS) at BA and MA level in Dept. of Mass Communication and Journalism (MCJ).
Prof. Ehtesham Ahmed Khan, Dean, School of MCJ, noted that more than 40 students opted the course in health journalism in the department after it was introduced in last academic year. He said that the purpose of starting the course was to familiarize students with health issues and how they can fulfill their societal responsibility through writing about it in media.
Presenting the report on health journalism course at Valedictory Session on CAS, Prof. Mohammad Fariyad informed that the course is offered as core paper in BA (JMC) and as optional paper in MA (JMC). He added that a majority of students in the course are girls, and all passed in the very first batch.
Mr. Prasun Sen, Communication Specialist, UNICEF, Ms. Sonia Sarkar, Communication Officer (Media), Unicef India, Mr. Tehseen Munawer, editor, News 18 Urdu, Dr. M.H. Ghazali, Editor, United News Network, and the MJC department faculty members Mr. Mohd. Mustafa Ali, Dr. Meraj Ahmed Mubarki, Mr. Syed Husain Abbas Rizvi, Mr. Tahir Qureshi and Mr. Meraj Ahmed attended the program.
Subscribe us on