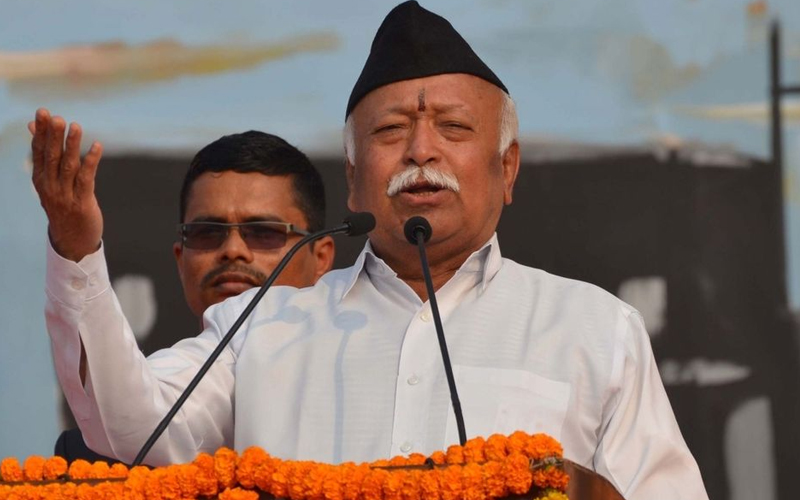 NEW DELHI: National Council of Churches in India (NCCI) on Thursday reacted to RSS chief Mohan Bhagwat's statement for misquoting Bible.
Condemning the Vijayadashami speech of Rashtriya Swayamsevak Sangh (RSS) sarsanghchalak, NCCI said he misrepresented the Bible and humiliated the Christian minority by terming the word 'lynching' comes from an incident in the Bible.
"The National Council of Churches in India (NCCI) condemn the misquoting of the Bible by Mohan Bhagwat, the Sarsanghchalak of RSS, to justify the term mob lynching," said Asir Ebenezer, NCCI general secretary, in a statement.
It added: "The Biblical incident that the Sarsanghchalak mentioned in fact exposes how Jesus stood by a woman who was a victim of patriarchal structures of that time."
In an event at Dussehra in Nagpur, the RSS chief said the word lynching comes Bible.
The RSS chief continued: "In this context, there is an old story in a religious text prepared outside. There is no connection of that religion with this but there is an incident in which a village was preparing to stone a woman. Jesus Christ reached there and said, 'you are stoning her because she is a sinner. Then make sure that the first stone is thrown by the person who has not sinned'. Then everyone realised their mistake."
Bhagwat asked: "Where is this incident from? Those places have a word for such incidents."
The NCCI pointed that all mob lynching incidents target the vulnerable communities in India including the religious minorities, Dalits, adivasis, the economically poor and women, reported The Telegraph.
"Therefore, NCCI request the highest government officials and political leaders of national and state governments as well as leaders of all political parties to condemn such heinous acts and irresponsible public statements so that peace and communal harmony can be maintained in this country."
Subscribe us on