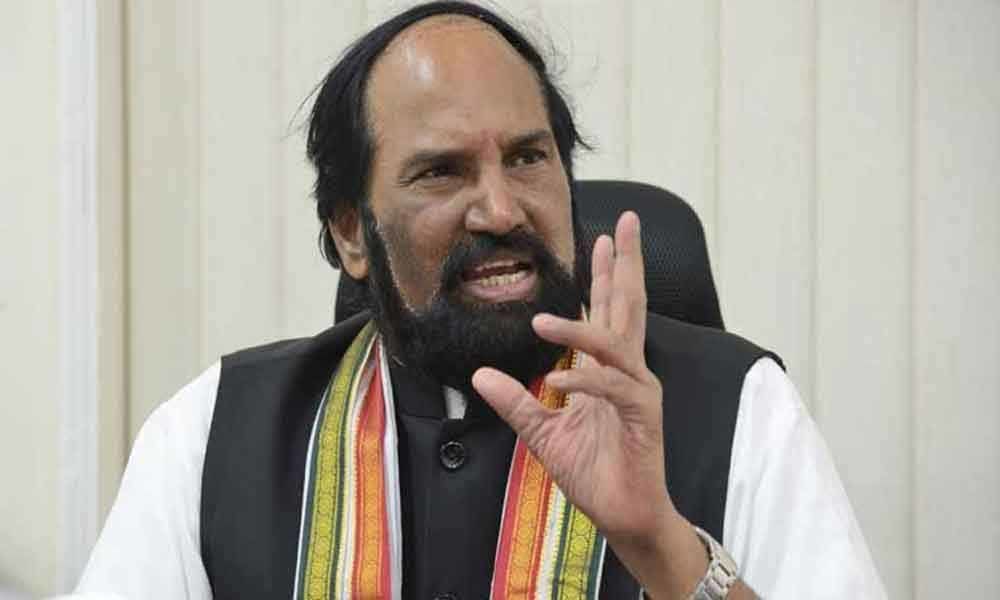 Hyderabad: Telangana Pradesh Congress Committee (TPCC) president and Nalgonda MP N. Uttam Kumar Reddy claimed that the victory of Congress candidate Padmavathi Reddy in Huzurnagar bye-elections was certain.
           
"TRS must read the writing on the wall. It is heading for a humiliating defeat in Huzurnagar bye-elections," he said while addressing a meeting in Hanumanthagudem village of Mattampally Mandal on Monday. He alleged that Chief Minister K. Chandrashekhar Rao has deployed more than 700 TRS leaders including ministers, MPs, MLAs, MLCs and corporations' chairmen in the constituency just to defeat a woman candidate. Besides distributing huge cash and liquor among voters, TRS leaders were also misusing police to harass local Congress workers. "Despite all illegal and unconstitutional efforts, TRS will face defeat as people of Huzurnagar would neither get lured nor terrorised by such tactics," he said.

   Addressing the meeting, Telangana Jana Samithi president Prof. M. Kodandaram said that TRS defeat in Huzurnagar bye-elections was the only option to pressurize the KCR Government to fulfill all the electoral promises. Stating that the by-polls were a great opportunity to make the State Government act in a responsible and accountable manner, he said if TRS wins Huzurnagar seat then the Chief Minister might create an impression that people across the State were happy with the performance of his government. He said entire opposition would lose its relevance and also existence if TRS somehow manages to win the by-polls. Therefore, he said the victory of Congress candidate Padmavathi Reddy would prove to be a major turning point in the history of Telangana.

Kodandaram pointed out that the KCR had promised double bedroom houses for poor, three acres of land for Dalits, one lakh jobs, etc., in his first tenure. While none of the promises were fulfilled, Chief Minister falsely claimed that all the promises have been implemented. After winning Assembly elections in December 2018, he claimed that people have again voted for TRS as it fulfilled all the promises. He of nearly 2.50 lakh vacancies, only 35,000 posts has been filled. No one got the double bedroom houses and the crop loans were yet to be waived off. Defeat in Huzurnagar by-elections would create pressure on the government to fulfill all the promises. Else, KCR would again make a false claim that people have endorsed his performance.

Kodandaram also slammed the Chief Minister for his wrong approach in dealing with RTC strike. He said TRS had promised to give salaries to RTC staff on par with government employees. However, instead of holding talks and resolving the matter, KCR displayed arrogance and illegally dismissed more than 48,000 employees. This resulted in the death of four employees due to heart attack while two others committed suicide. Stating that all opposition parties were behind the RTC employees, he appealed to the people to support the Telangana Bandh call on October 19.

Former minister Sudarshan Reddy and other leaders also addressed the meeting. 
Subscribe us on