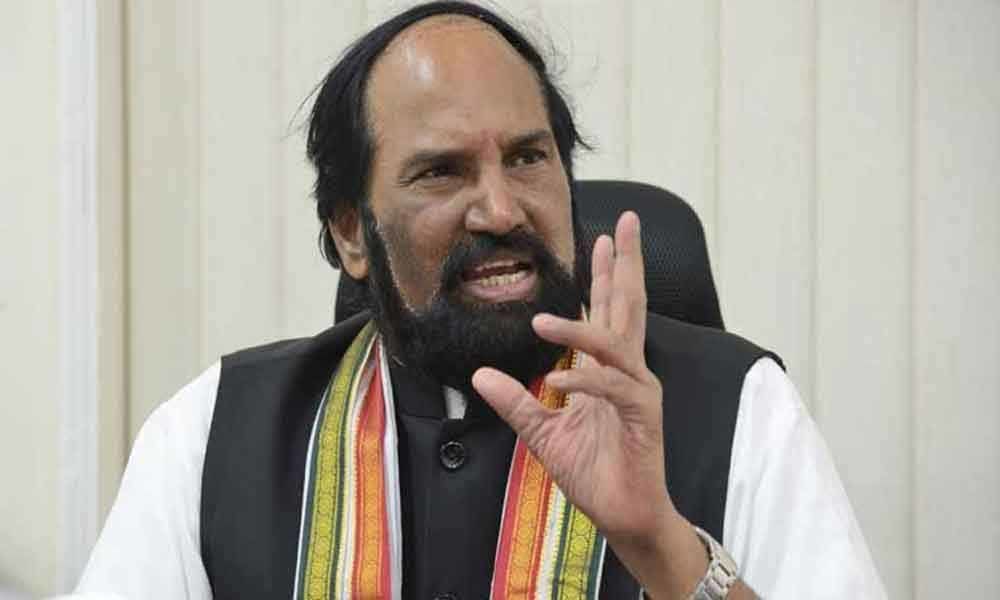 Hyderabad: Telangana Pradesh Congress Committee (TPCC) President and Nalgonda MP Capt. N. Uttam Kumar Reddy on Tuesday informed that the flag hoisting programme of Congress party has been extended till August 4.
In an informal chat with media persons at Gandhi Bhavan, Uttam Kumar Reddy said that the programme has been extended due to various factors. He asked the Congress cadre to gear up for the municipal polls and expressed confidence that the party would win a majority of municipalities.
Uttam Kumar Reddy strongly objected to the new Municipal Act brought by TRS Government and called it undemocratic and unconstitutional. He said it was illegal to grant powers of municipal bodies to the District Collectors. He said that the Congress party would challenges the new Municipal Act in the court. He said some provisions of the new Act reflect the aristocratic nature of government being run by Chief Minister K. Chandrashekhar Rao. He said it was ridiculous to make provision for suspension of Corporators on failure of Haritha Haram programme.
He asked whether KCR or any minister resigned from their post due to the failure of Haritha Haram programme. When the same law could not be applied to the CM or ministers, how it could be applied to Corporators or other elected representatives? he asked.Uttam Kumar Reddy alleged that TRS was having a secret alliance with the BJP. He said TRS has continued its support to the BJP Government at the Centre and Modi Government was passing all Bill in the Parliament with the active support from TRS MPs.
He said RTI Amendment Bill was passed in Rajya Sabha only due to the TRS support. He also alleged that the BJP Government was trying to turn country into 'Police Raj'. He also ridiculed the claims being made by BJP about its rising strength in Telangana. He said BJP was an 'Urban Party' and it has no or little impact elsewhere. Stating that people of Telangana would never accept BJP's communal politics, he said Congress was the only alternative to TRS in Telangana State. 
INN
Subscribe us on