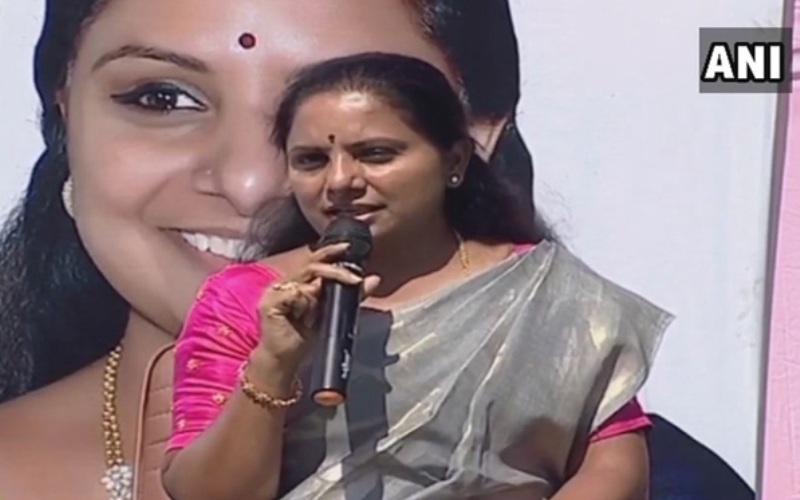 Nizamabad: Telangana Rashtra Samithi (TRS) MP from Nizamabad, K Kavitha criticised the BJP and Congress for failing to develop the country and said only regional parties can fuel development.
Addressing a rally here on Tuesday, Kavitha said "It is high time to let India know the hardships that a turmeric producing farmer goes through in his life. The BJP government which boasts about their farmer-centric schemes should first and foremost know the plight of farmers. The desired solution can be achieved only when turmeric farmers stand for themselves. Thus, we want 1000 nominations to be filed by turmeric farmers."
Kavitha further assured support to turmeric farmers on behalf of the TRS.
"TRS has stood with the turmeric producing farmers in the past as well and will be there for them always. The party under the leadership of KCR has raised the demand of National Turmeric Board in the Parliament and will keep on doing the same till the time our demand gets fulfilled."
Kavitha also mentioned that the Nizamabad Railway line was funded under the TRS government and a total of Rs 900 crore was allocated for the same.
"In the next five years, homeless people in every village will be given a house. Dwarka groups are linked with the farmers to provide food processing units. We will try to give Rs 2 lakh loan for the SC, ST and other backward classes without liabilities of banks," she added.
Telangana will go to polls on April 11.
[source_without_link]ANI[/source_without_link]
Subscribe us on