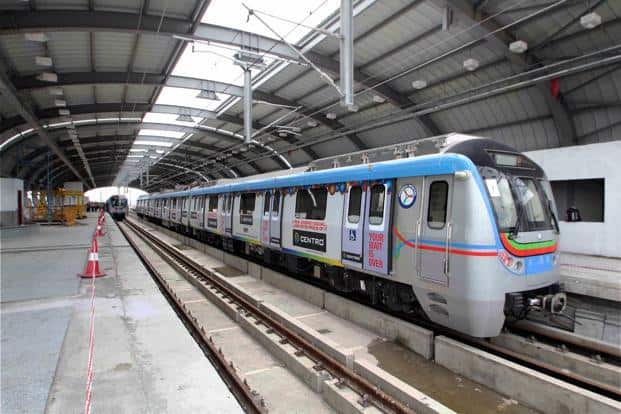 Hyderabad: If you've had one too many pegs and apparently not in a position to tell which platform you are on, Hyderabad Metro Rail (HMRL) employees may not let you board the train.
It is a different matter that several representations have been made requesting HMRL to allow even drunk passengers to board the train.
N V S Reddy, Managing Director of HMRL said, "Persons in inebriated condition are prevented by our security from boarding the train. In fact, I get a lot of requests to be a bit liberal to allow passengers who have consumed limited alcohol to travel by Metro as drunk driving is not allowed by police in Hyderabad. The other day I got an NRI group calling on me with a similar request as world over this is allowed, as long as they don't create nuisance."
However, HMRL has been very strict in not allowing people under influence of alcohol to commute. In fact Section 59 of Chapter IX of Metro Railway (Operations and Maintenance) Act, 2002, authorizes a Metro official to throw out a person trying to take a ride under the influence of alcohol.
The section on drunkenness or nuisance on Metro railway, tells, "If any person, in any carriage or upon any part of the Metro railway,- (a) is in a state of intoxication (b) commits any nuisance or vandalism or act of indecency, or uses abusive or obscene language … shall be punishable with fine which may extend to five hundred rupees and shall also be liable to wrongdoing of the fare which he may have paid or any pass or ticket which he may have obtained or purchased, or be removed from such carriage or part by any metro railway official authorized by the metro railway administration in this behalf."
Meanwhile, the HMRL have taken the decision to not allow people who are under the influence of liquor after considerable discussion on the matter.
A video clip of a person creating nuisance in a train in drunken condition is being circulated on social media.
Responding to the issue, Reddy said, "This incident reportedly happened on 8th September but the video is still being circulated on various social platforms. It appears that person has not consumed as much liquor as to lose his senses. But he was acting out it to seek public attention. This person stood firmly, took a video of himself and by the time some passengers complained at the next station, he got down and slipped away".
HRML will anyway create a WhatsApp facility soon for commuters to make instant complaints so that such persons causing nuisance can be detained.
Meanwhile, as per liquor policy, commuters would be allowed to carry up to two bottles on the Metro, only if they are sealed.
Subscribe us on