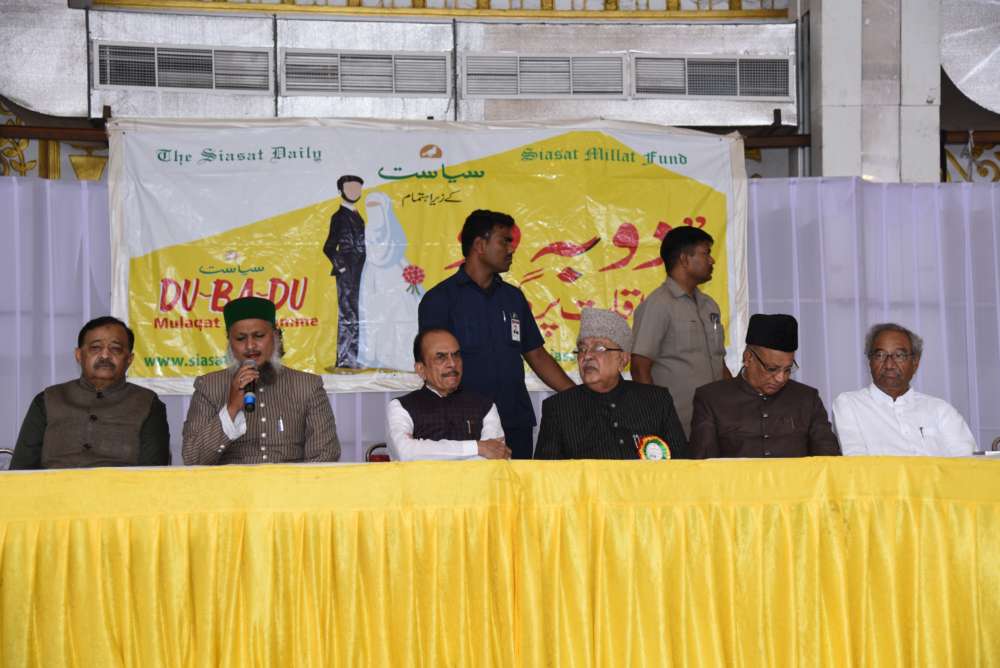 Hyderabad: Home Minister of TS, Mr. Mohammed Mahmood Ali told that Islam has given importance to social service. Keeping this aim in mind, Siasat and its Millat Fund have taken the steps for arranging matrimonial alliances of the boys and girls whose parents are worried about their marriages.
In fact, taking pleasure in seeing others happy is an attribute of a perfect human being. Siasat is not only a newspaper but a common platform wherein guidance is being provided to the younger generation in the fields of education, employment, health etc.
In the past, Siasat has provided financial assistance to a candidate for becoming pilot which is laudable.
Mr. Mahmood Ali told this while addressing 100th program of Du-ba-Du organized by Siasat and its Millat Fund at Minar Garden near Nayapul yesterday.
Mr. Zahid Ali Khan, Editor of Siasat Urdu Daily presided over the centenary program of Du-ba-Du. Mr. Mohammed Qamaruddin, Chairman, TS Minorities Commission was the guest of honour. Mr. Aziz Pasha, former CPI MP of Rajya Sabha, Mr. Iftekhar Husain, Secretary, Faiz-e-Aam Trust attended the program.
A large number of parents and guardians were present in the function. They congratulated Mr. Zahid Ali Khan, Mr. Zaheeruddin Ali Khan, Mr. Amer Ali Khan and the staff Siasat Urdu Daily with whose untiring efforts made Du-ba-Du program complete 100 sessions.
Addressing the gathering, Mr. Mahmood Ali told that CM of TS, Mr. KCR started Shaadi Mubarak Scheme as a consequence of the survey report which revealed that many Muslim girls have not been able to celebrate their marriages due to financial difficulties.
The parents who were giving their daughters in marriages to Arabs got a relief.
Mr. Zahid Ali Khan welcomed the guests and audience and told that Millat Fund of Siasat Urdu Daily has been organizing Du-ba-Du program for the past 20 years. He pointed out that some people questions that why is Siasat doing this sacred work, its area of operation is confined to newspaper. They should know that Siasat Urdu Daily has emerged as a movement making attempts to link minorities with jobs.
Parents and guardians congratulated Mr. Zahid Ali Khan and Mr. Zaheeruddin Ali Khan on this occasion.
Dr. Siyadat Ali, Dr. Kazim Ali and others provided guidance to parents and guardians.
Mr. Zahed Farooqui conducted the meeting and proposed vote of thanks. On this occasion, mementos were presented to Mr. Abid Siddiqui, Mr. Ahmed Siddiqui Mukesh, Dr. S.A. Majeed, Dr. Ayub Haideri, Syed Khalid Mohiuddin Asad and other staff members of Siasat.
Subscribe us on