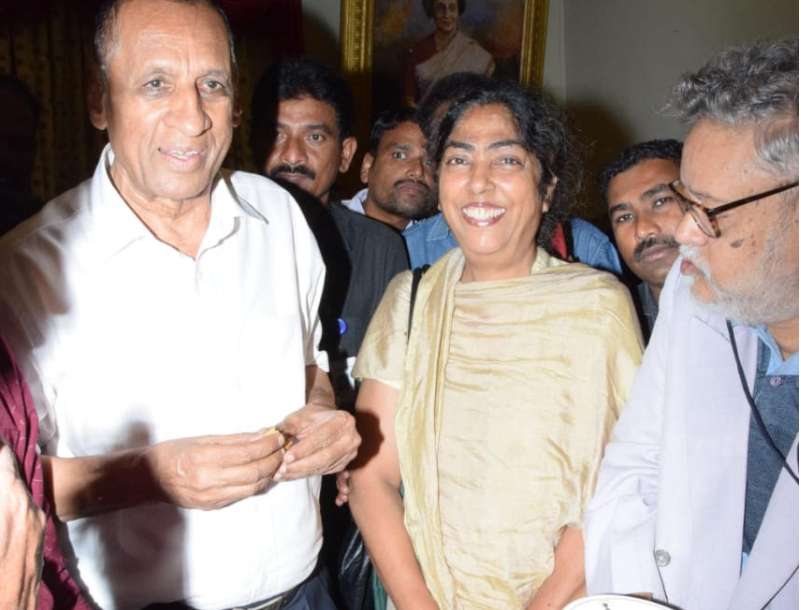 Hyderabad: Governor ESL Narasimhan today said that however one may be busy please do not neglect your family There is nothing call busy? Spend quality time with your family irrespective of your schedule.
He was replying to a question whether his wife at any time had complained to him of not giving them time while he was the Governor?
Replying to the question ESL Narasimhan said that he and his wife wake up at 4 am but ensured that there is time for his family. If you are not able to communicate with your family then what use is it. Spending time with your family and children is the best stress buster he said and recalled how when he was in the Intelligence or as Governor despite his busy schedule he ensured he had dinner with his family. After that, he and his wife went for a half an hour walk would have ice cream of different flavours and return home.
One day someone asked him where does he go every day with his wife be it cold be it hot be it rainy? To this, he jokingly answered that he had his parents at home and two children if there were any differences at home he did not want to discuss before his elders nor before youngsters ( his children )  so they went for walk sorted the differences had ice cream and returned home. To date he follows this he said and added that spending quality time with your family is the best stress buster. He urged every citizen to ensure they spend time with their families.
Asked whether he would settle in Hyderabad he said 'No " he would like to go back to Chennai.
The Governor who is a demitting office in next seven days said that he would like to go back to Chennai and lead an ordinary citizens life. Eat dosas and Idlies just like a common man wear dhoti and chappals and be himself. I like to lead my life on my terms
Asked whether he would join politics He said that he will have nothing to do with politics I like to lead my life at my terms
Thanking every one he said that the media has been most cooperative. I will not blame anyone. I like to thank print and electronic media. For the last nine and a half years this has been a great learning process. The way the situation was in the State it required different ways to handle sometime. He recalled December 31 someone told him that the Krishna Committee report was to come out that day. What will you do after that? Of course, it was a valid question. The next day there was news in the paper that the Governor was against Telangana he recalled.
He said that it has been a useful learning experience. I have gone through various situations. When I landed in Telangana there was huge law and order problem vis a vis Separate Telangana agitation. There was a curfew , resignations from Assembly. The media's understanding was there will be President's rule but I said that when there is a popularly elected Government there is no question of President's rule. Thankfully the police have done exceptionally well. We used water canons tear gas shells but never used firing as there was clear instruction from me not to fire he recalled.    
He said that the Police had handled the situation very well God was kind. There was no such episode where they had to use firing. He thanked the political groups who cooperated and peace was restored. Thereafter Bifurcation happened for which he gave credit to political groups who maintained harmony. He thanked all groups who maintained peace and harmony. He thanked bureaucracy political groups and police who managed the bifurcation very well he recalled.
There was a short spell of President's rule that went off well. Some problems of medical exams but within 48 hours medical exams were cancelled and reexamination held. Petrol Bunks also went on strike at one instance but I called them and told them Very well we will walk from tomorrow. However, the issue got sorted very fast.
There were few challenges during President's rule but bureaucracy administration and stakeholders worked round the clock. Then came elections which went off well. It was a good experience. He said that he had trust in God and had blessings of elders and luck. Asked  if he gets some Post he will accept he said that all is remote controlled from above meaning God
He also recalled how media wrote about him visiting the temple early in the morning and creating security problems to which he said that he only went to Hanuman Temple in the City and Bhadrachalam, Srisailam and Tirupathi barring that he never went anywhere.Moreover, everyone has a personnel life hence that should not be criticized
Asked whether he had any message for the State he said that as he gets ready to leave the State" I feel I did what my conscious told me to do. I had no agenda, I NEVER DEVIATED FROM CORRECT PART Many times people thought I was with a particular group which is not true. I never supported any political group.
Stating that he was celebrating his departure as he was leaving this place shortly he was carrying happy memories and good wishes of people of Telangana and Andhra Pradesh with him. He thanked the people of both the States political groups and media and every segment of society for all their support and good wishes He said that media has a great responsibility You can make or mar a situation so please be responsible. There may be some compulsions but realize you are citizens of the country first and own debt to the future and ensure that it does not affect the future citizens through writings. Do constructive criticism
Asked whether he would look at politics as a career he said that "I am not joining any political party. On another question that he was made Governor to handle the Telangana situation but when bifurcation happened there was some happiness and there was some sadness what did he think of at that moment he said it was like the Ugadi Pachadi with some sweetness, bitterness, saltiness, and sourness.
On another question that during one of his speeches there was an uproar in the Assembly and mikes were removed and thrown Governor said that he had anticipated all that and was prepared for it. In the evening Nagam Janardhan reddy met him at a wedding and sought his blessings to which he called some one and said see this is personnel and that was public.   I like to draw a line between political public and personnel relationships he added.
Siasat News
Subscribe us on