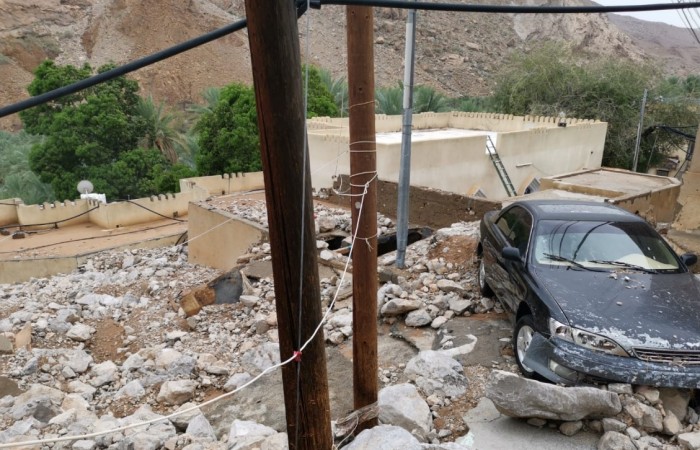 Muscat: A newborn baby boy, his two-year-old brother and four-year-old sister are among the missing members of an expatriate family whose car was swept away in a copious cloudburst in Oman on Saturday (May 18).
The entire extended family – except for dad Sardar Fazal Ahmed feared dead in floods after picnic to panoramic mountains ended in tragedy. Sardar's parents, his wife Arshi, daughter Sidra (4), and his sons Zaid (2), and the 28-day-old infant Nooh were swept away.
According to media reports, the family of Khairullah Khan Sattar Khan from Maharashtra's Beed district were visiting the Wadi Bani Khalid, a famous tourist destination in the eastern region of Oman where they were trapped inside a vehicle by torrential rains.
استمرار جهود البحث عن العائلة الأسيوية المفقودة في وادي بني خالد في وقتٍ سابق من مساء يوم السبت الماضي بتعاون مختلف فرق البحث والإنقاذ بشرطة عمان السلطانية والهيئة العامة للدفاع المدني والإسعاف والفرق التطوعية الأهلية. pic.twitter.com/HHxZcVxEqK

— شرطة عُمان السلطانية (@RoyalOmanPolice) May 20, 2019
جانب من جهود طيران الشرطة أثناء تنفيذه عملية إنقاذ لثلاثة أشخاص بوادي سرور بولاية سمائل مساء اليوم. #شرطة_عمان_السلطانية pic.twitter.com/2PHCmsZ7ZW

— شرطة عُمان السلطانية (@RoyalOmanPolice) May 19, 2019
Speaking exclusively to Times of Oman, Sardar said the family had gone for a day trip but encountered heavy rainfall and storm.
Khan, a resident of Majalgaon had not seen his son for three years and therefore pay a visit to Sardar in Oman along with his wife on May 6 to celebrate the birth of their newborn Nooh.
Sardar, a pharmacist at the Ibn Al Haitham Medical Centre in Ibr has been residing in Oman with his wife and three children. Sardar urged the authorities to help him trace missing familt so as to perform their last rites.
Subscribe us on