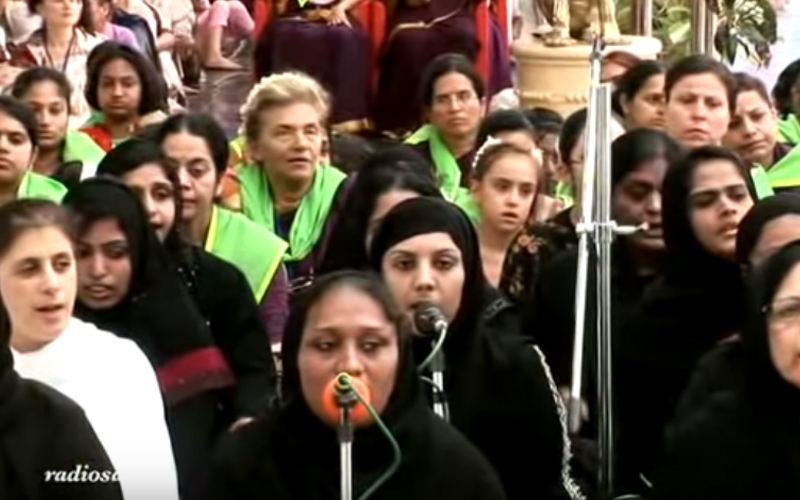 NEW DELHI: दुबई में मुस्लिम ओरतो ने नई पहल करते हुए मस्ज़िद में राम भजन प्रस्तुत किया और उनके शेख पतियों ने ताली बजाकर लय बद्ध उनका साथ दिया l (Muslim women in Dubai mark a first, sing Ram bhajan inside mosque and their sheikh husbands applauded and joined them- translation). Along with this message is a video, which shows burqa clad women singing Hindu devotional songs.
[get_fb]https://www.facebook.com/Hindushaktimaha/videos/365033720998571/[/get_fb]
The video along with the aforementioned claim has been shared by several individual users over the past few days, with the same text, suggesting that it has also been circulated on WhatsApp. The video clip is around four minutes long.
In fact, Alt News found that this video along with this claim had been posted recently by a right-wing Facebook page Azaad Bharat in November 2018, and the share count exceeded 9000.
[get_fb]https://www.facebook.com/officialazaadbharat/videos/1988057678161371/[/get_fb]
[also_read url="https://www.siasat.com/news/fact-check-did-owaisi-wrote-letter-un-saying-muslims-not-safe-india-1455495/"]Fact check: Did Owaisi write letter to UN saying Muslims not safe in India?[/also_read]
What is the truth of this video?
A simple search on Google with the key words 'mosque bhajan' reveals a YouTube video of ABP News, which had fact-checked this claim twice on its Viral Sach programme, first in August 2016 and later in February 2018. This suggests that this claim has been circulating on social media for atleast two years or more. The same has been fact-checked by The Quint.
In conclusion, the video of burqa clad Muslim women singing bhajans is not from a mosque in Dubai, but from a cultural event organised at Sathya Sai Baba's ashram in Puttaparthi, Andhra Pradesh.
[source_with_link url="https://www.altnews.in/viral-video-no-muslim-women-did-not-sing-bhajans-inside-dubai-mosque/"]AltNews[/source_with_link]
Subscribe us on