Fahnz is a fantastic medium for football talent recognition. It is a unique way to engage the football community in spotting talent and enabling his/her journey to success. In short, it is Connecting Talent to glory.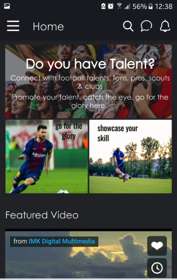 Fahnz mobile app (www.fahnz.com) provides you with an ideal platform for football fans across the world. From talent identification to nurturing them and promoting them to football clubs and communities, we narrate football stories to football fans and enthusiasts.
We take pride in offering our football fans with live scores and updates of football players to keep you up with the pace of the world of football thus making it easy for you to track your favourite players and teams.
Enthusiastic football lovers can register the football talent on the app followed by uploading the video of the identified talent, and finally, the talent gets featured on the app. Football fans can post their favourite players and talents on the app so that coaches and football clubs/academies can look out for the talents on the app. Scouts and coaches can use the app to endorse or select the talents.
Fahnz has recently sponsored Extreme Football Championship in Hyderabad comprising 8 teams, winners and runners-up won Rs.2,50,000.
Extreme Football Championship Winners

Extreme Football Championship Cup

Extreme Football Championship Winners

Fahnz Cup 2019 Launch
Fahnz was instrumental in sponsoring and promoting Asian Football Confederation Grassroots Day at Astropark Apollo in the summer of 2019.
First-quarter of 2019 saw Fahnz launching the yearly Fahnz Cup for under-15, under-19, and open category with 32 teams in action for prizes worth Rs.60,000.
After a successful season, the upcoming School football League from Fahnz and Hyderabad Football Academy (HFA) promises two months of football action among top schools from Hyderabad. More than 30 schools will be participating with about 1000 budding talents in action.
Fahnz will be proudly sponsoring the trophy and supporting talents from the schools to use Fahnz Mobile App for showcasing their skills. This provides an opportunity for all the budding football star to get recognized by coaches and scouts or clubs in India.
Registering on Fahnz will help the talent record his/her skills in the app for the football community to watch and appreciate?
Our experts will evaluate and report on the talent's skills and promote the talent to prospective clubs and academies.
Thus Fahnz creates a transparent and informal process of recognition that enhances the chances of the talent to achieve his/her dreams.
Fahnz aims to bring talents close to football fans, scouts, established players, experts, schools and clubs. It will be our utmost satisfaction if the raw football talents get their due in realizing their football dream.
The data access is limited to the Technical Head and is shared with football talent scouts, experts, clubs and academies.

Other Highlights of Fahnz:
Featured Video and images of the most liked Football Talents on Fahnz home screen
Latest posts and updates about football on Fahnz home screen
Football Skill video uploads, with views in activity and profile screens
Explore feature to check out other talents/fans/user in the area
MyActivity tab that shows all the posts, videos shared
General Activity in menu shows all the football chatter and posts across all members
Profile tab to maintain talent profile based on profile types like Talent, Fan, Player, Scout, Clubs/Academies and other features
Search and connect with other members using friend requests
Chat with members, share and discuss talent skills and football happenings
Checkout and link to groups of Talents, Fans, Scouts and Clubs
Fahnz is free to download and install.
Don't forget to upload your favourite football talent and receive updates about your favourite teams and players on Fahnz with just a click.
Subscribe us on